When we talk about Brand Maps and Brand Mapping, we're presenting two different useful outcomes. For many organizations, brand mapping is employed to provide a snapshot of the centrality (the brand which is most representative of their category; think Coca-Cola) versus the distinctiveness (the brand which is truly different in their category; think Tesla) and where their brand fits. In this approach to visually plotting the relationships between distinct brands in a category, the idea is to provide an axis of comparison. Indeed, this is a valuable indicator for understanding the Brand Position (relative to the competition). But this type of mapping really only tells one part of the story.
When we discuss Brand Maps, we're focused on providing a universal view of one brand, as well as its component parts, while also indicating who is responsible for managing the brand and why, where the brand lives within the organization and where it bridges the gap between the role of Marketing (making the brand promise) and Operations (delivering on that brand promise).
The Brand Map is different from the Brand Architecture in that it takes into account the brand's SWOT (Strengths, Weaknesses, Opportunities, Threats) as well as the Brand Purpose (Mission, Vision and Values). Moreover, the Brand Map organizes the four P's: Product, Placement, Price and Promotions and adds a fifth: People.
Brand Maps defined: The OVO Brand Map tool provides a relational snapshot — a visual manifestation — of the brand's own universe. It is a useful device in employee onboarding and training, as well as larger organizational initiatives such as Mergers and Acquisitions.
---
Example Brand Map Template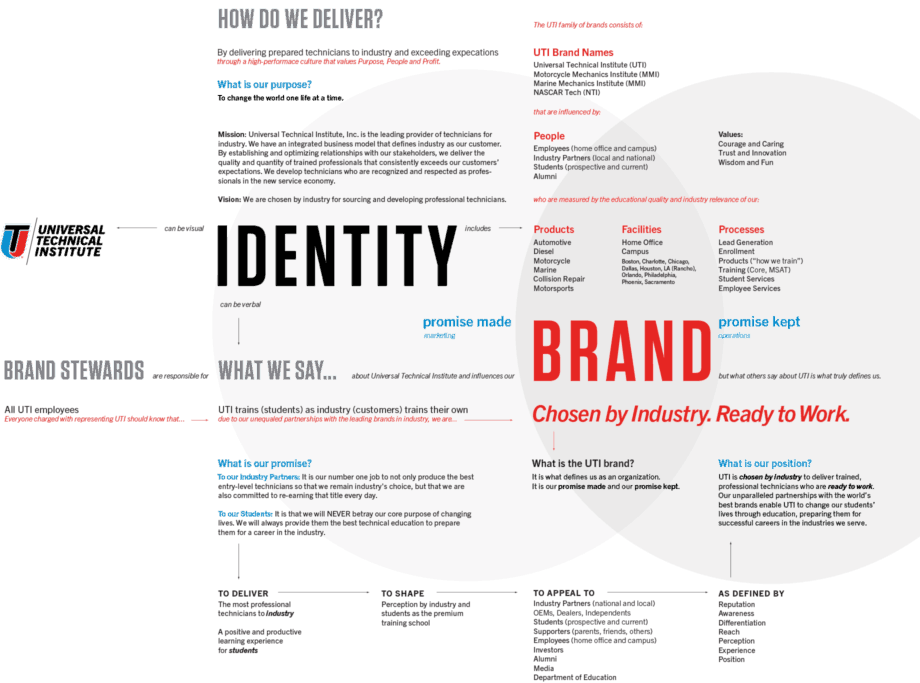 Brand Map process and deliverables:
Identifies positive overlap (and gaps) between Marketing and Operations
Clearly illustrates entire brand universe and articulates Brand Positioning
Provides visual reference for planning purposes and organizational change
Informs new hires of various relationships: Personnel, Assets, Motivators, etc.