Everlane
"The key to brand is finding its essence", an agency will explain to their client. And something clicks. The general premise is the simplest thing in the world. After all, it's the reason the company was founded and it is why the product or service was developed. But when the same agency asks their client to articulate what brand essence means to the customer, the room gets quiet…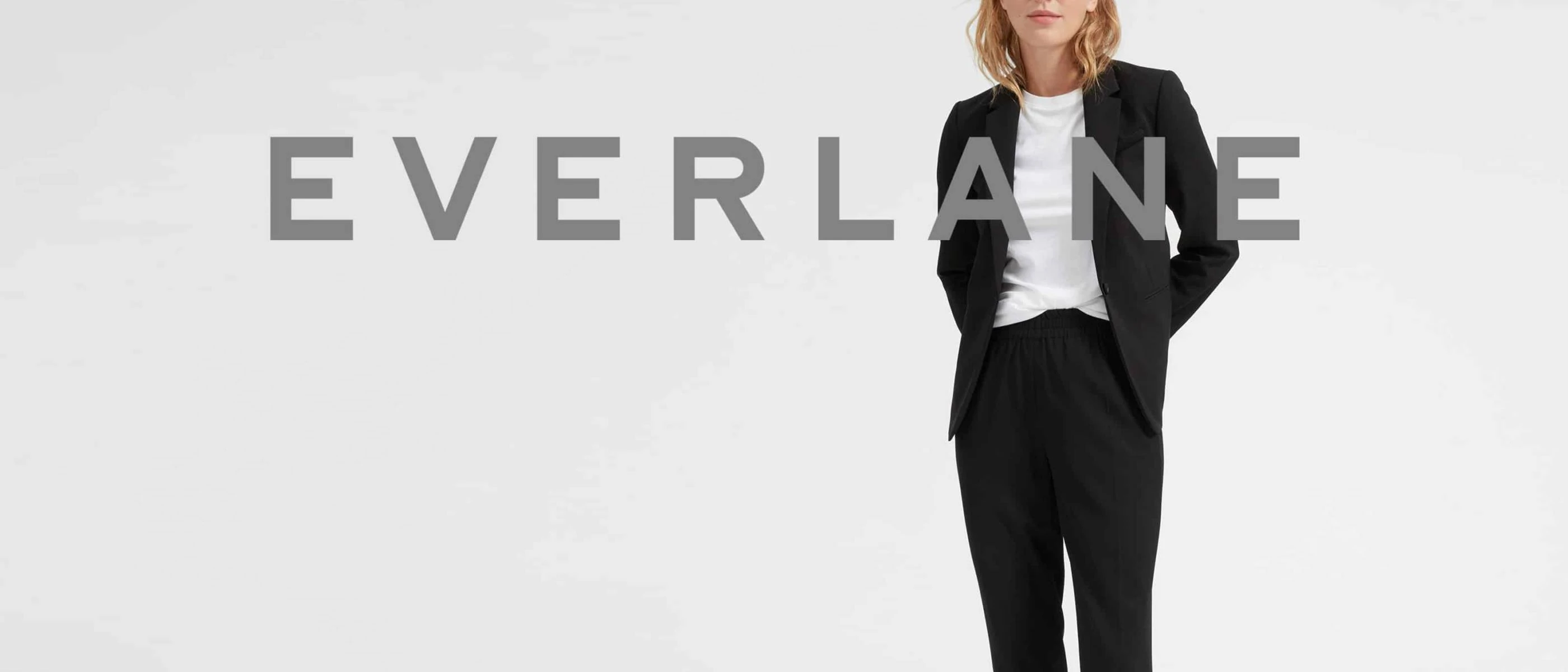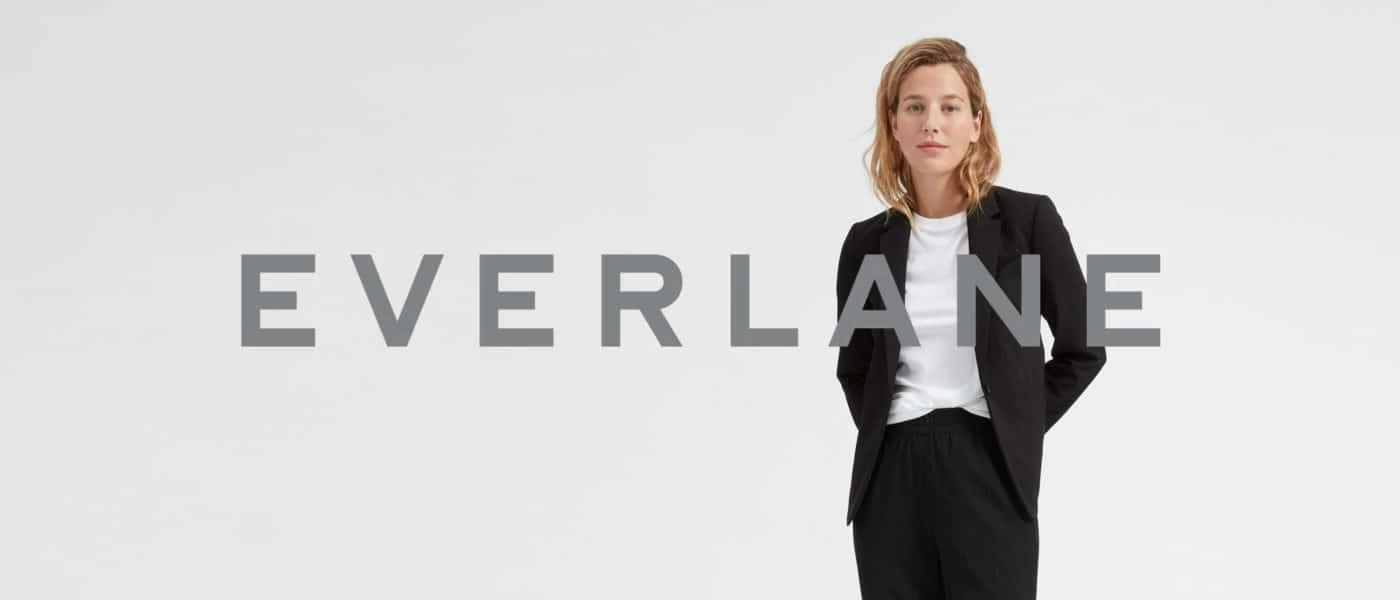 "The key to brand is finding its essence," an agency will explain to their client. And something clicks. The general premise is the simplest thing in the world. After all, it's the reason the company was founded and it is why the product or service was developed. But when the same agency asks their client to articulate what brand essence means to the customer, the room gets quiet. Quieter yet when the client is then asked about how they might execute upon the essence of the brand. Crickets.
Everlane® is an upstart clothing brand. At first glance, it might look like every other brand competing for the same piece of the action. On the surface, it's likely easier to define what it isn't. Is it the only brand of its kind? No. Does its product offering break new ground? Not really. Does it define a lifestyle? Nope. Is it the least expensive in its category? Probably not. From our perspective, however, and within the worn satchel of cookie cutter clothing brands, Everlane is leading by example. It is a new kind of retail experience.
Everlane understands that it is more effective to build upon the customers they have than it is to create new customers.
Everlane is a company that articulates its value. That is its essence. And it executes flawlessly.
But to understand how Everlane succeeds, one must understand its motivation: Value. Simple, right? Not so fast. For an apparel industry beset by human rights abuses in the majority world, consolidation and confusion among brands, seemingly countless abbreviated retail seasons, and resulting production margins that grow ever more svelte, recognizing the essence of value can be a bit, well, murky. From Ralph Lauren to American Apparel, from UNIQLO to J.Crew, from Burberry to H&M, their ideas of value are defined by mostly legacy measures that saturate this space: price, performance, and lifestyle. As such, value must be further explained, packaged and sold. Marketed. Branded. That's expensive. For an upstart, it's a significant investment of time to build trust. Within an industry defined by expectation and ruled by distribution. Frankly, it's a wonder that any learned entrepreneur would choose to venture into the world of apparel.
Radical Transparency and the New World of Everlane. In nine words.
Know your factories. Know your costs. Always ask why. In those nine words, Everlane accomplishes the hard work of keeping it simple. It's what they call "Radical Transparency". It defines their value and describes the details of what that value is about. It's not a tagline. It's a pin on the map. Radical Transparency is where Everlane exists in relation to the customer and Everlane's place within an industry.
The who, the what and the where are described above. But what about the how and the why? This is how. And it is, in part, why we love Everlane.
Focus on one product
Tell the story
Make it brief
Share truth in the details
Grow carefully
1. Focus on one product
Since its inception, Everlane demonstrated an exceptional ability to focus on the task at hand. By some happy accident, I had seen the very first tweet that served to launch its first product, the Everlane Tee. I immediately thought, "So this is it?" And then remembered thinking, "Well, that's simple. Beautiful.". The premise was every bit as simple; Offer a product—one beautifully simple product that the customer likely uses—directly to him or to her and without the added costs of the middleman. The tone was conversational but tight. There may be other products coming, but this tee shirt is what we want you to know about today. There are a couple of color choices. Good colors. Timeless. It's not difficult. It's a tee shirt. You wear tee shirts, right? Of course, you do. They had me. Of course, they did.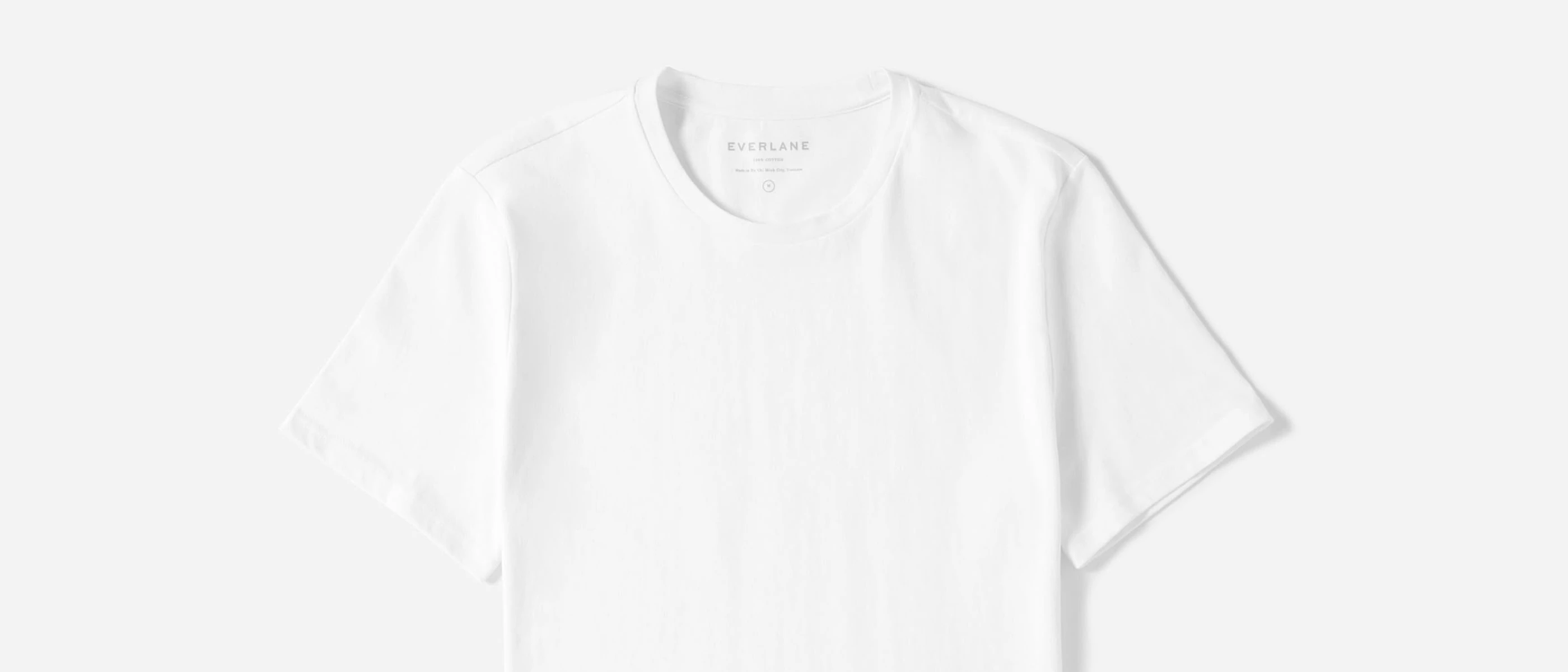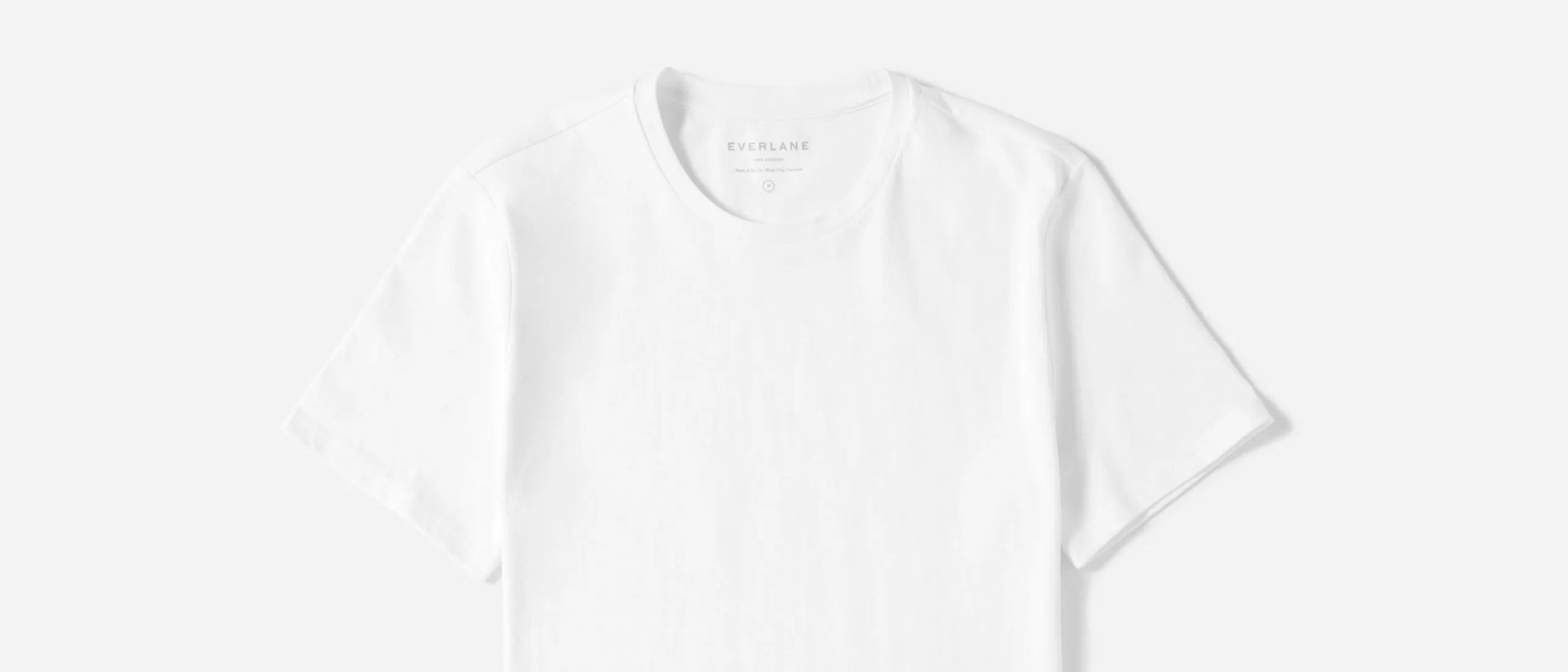 The Everlane Tee
2. Tell the story
By selling direct and online only, the strategy at Everlane is based on charging about twice what the product costs to produce. By contrast, full retail typically charges 8 to 10 times the price of production to account for fluctuations in costs such as overhead, marketing and inventory. At each step, Radical Transparency means sharing the process and revealing the markup. That happens by sharing where each product is made, what it costs to make, and why it costs what it costs.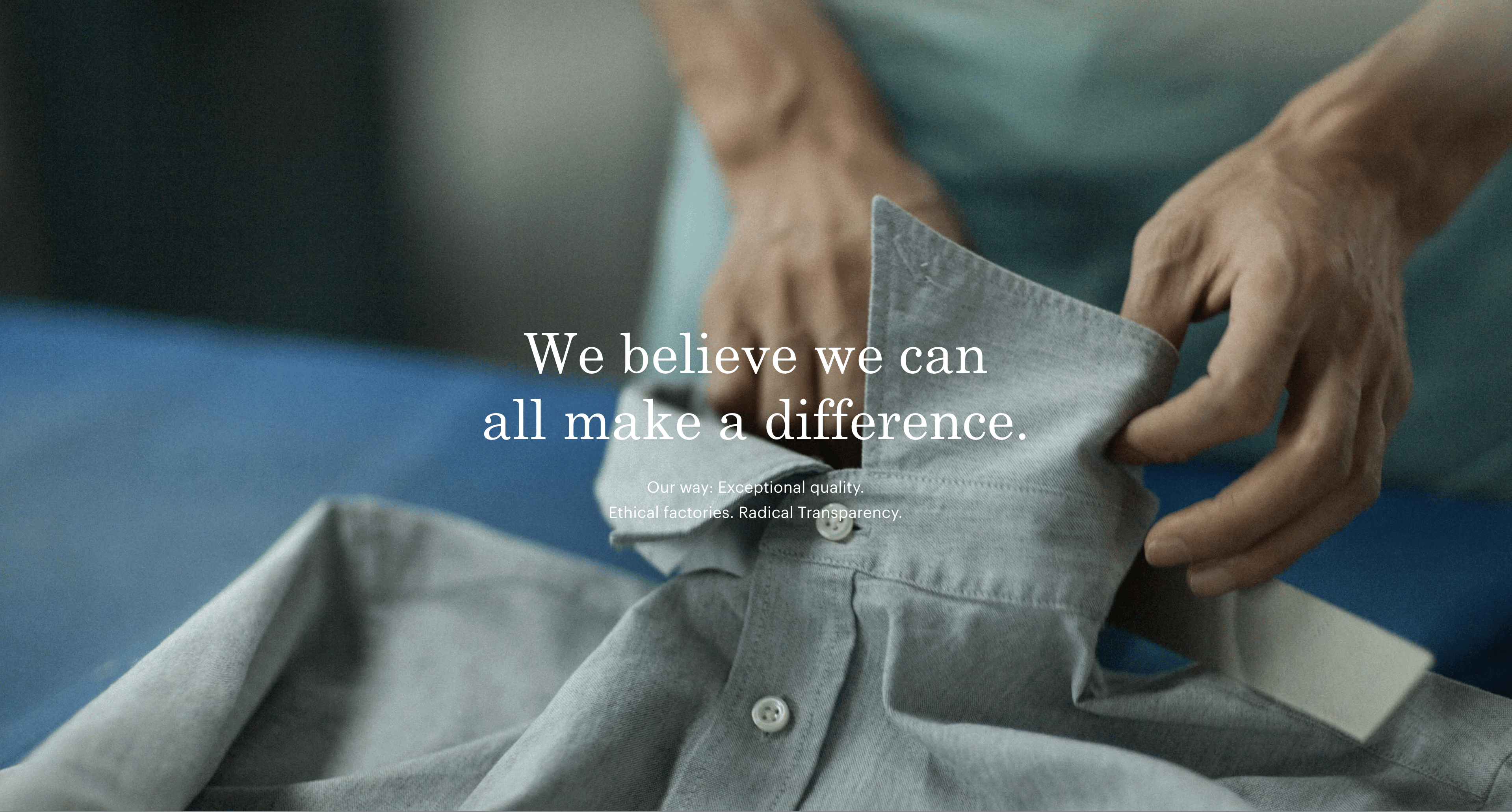 "Our way: Exceptional quality. Ethical factories. Radical Transparency."
3. Keep it brief
Membership has its privileges. Early access is one. Brevity is another. "We're online only, which means we love email," states the link on the Everlane site. It is functional story-telling in brief. Email sells. Each new product release received is a show-then-tell-experience. Each email presents a single product, typically in a single color on a basic gray background accompanied by a few well-chosen words. Light, accessible copy points mean consumer purchase decisions are easily facilitated. While other products would come in due time, the visual presentation never wavers; one serif typeface; classic, well-set and with plenty of air. Light. Easy. "Modern Basics." Contemporary but timeless. Not more than three or four lines. If possible, only one.
4. Share truth in the details
Consumerism is a nasty byproduct and Everlane is in business to sell stuff. There is no sugar-coating it. So they craft their language and their imagery to tell the story and show how the industry can work with some effort. How it can improve. Production is a dirty business so if you're going to make something, it should be a company's responsibility to make it well and make it valuable. Everlane shows how to be attentive. To be reasonable. Clothes are expensive. Everlane shares why. Companies make mistakes. Everlane shows how they're working to improve upon them, step-by-truthful step. Everlane invites the customer to be critical and in doing so, it trusts the customer to be informed enough to make the best choice. It may be Everlane. It might not.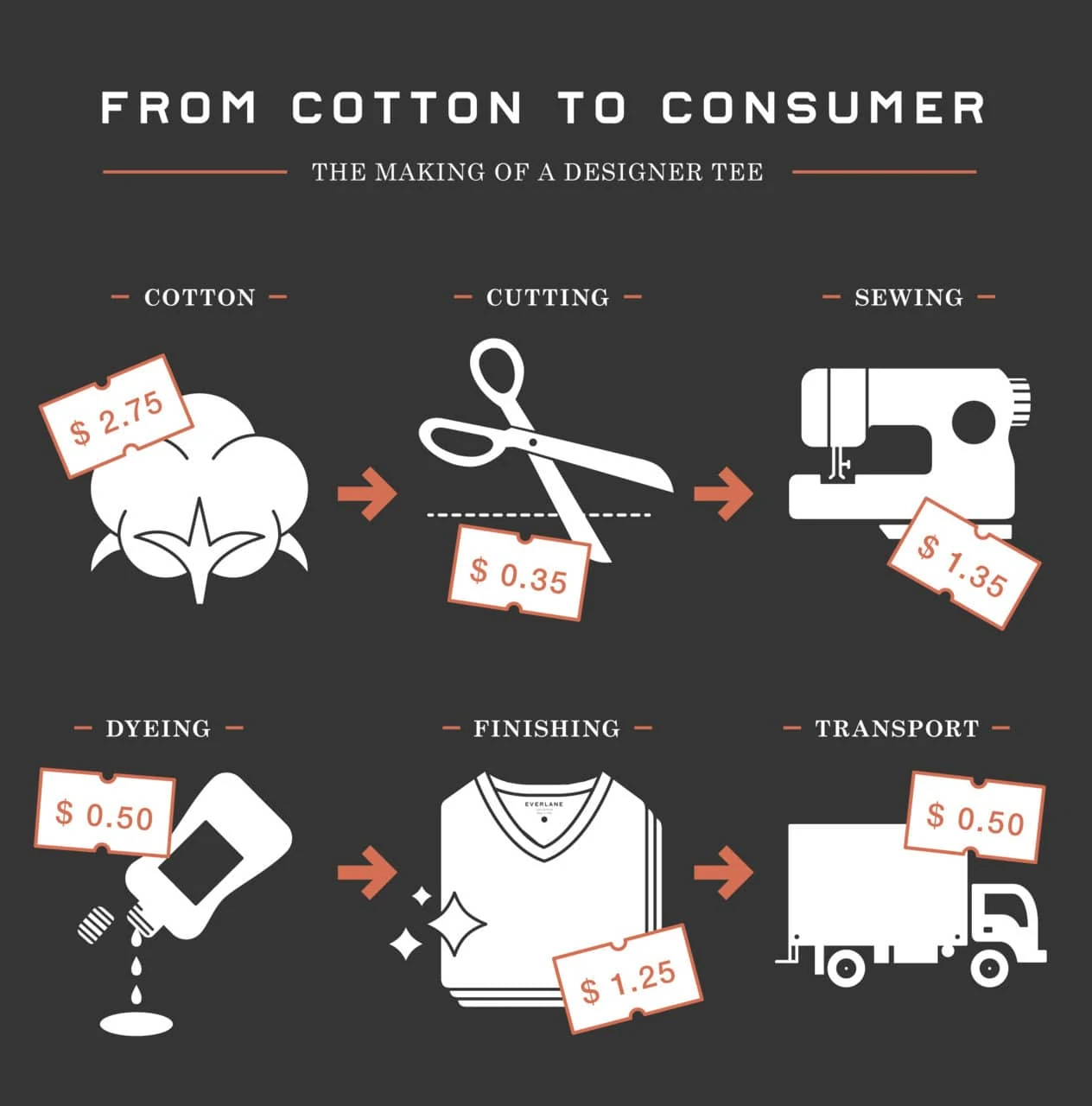 5. Grow carefully
Everlane understands that it is more effective to build upon the customers they have than it is to create new customers. It's cheaper and it builds loyalty. In 2012, Business Insider profiled the company. At that time, Everlane had 200,000 users and more than 30% were repeat buyers. Product waiting lists—a result of their conservative inventory strategy—serves as a marker for demand. The model provides the ability to turn on a dime; if a color isn't selling, Everlane will modify the product or kill it. It's a sort of "demand creates a careful supply" model as opposed to the microeconomic price determination scale we learned in our undergraduate classes. It also allows for brand extension opportunities, such as Everlane Black, the company's recent foray into the (reasonably) higher-end "luxury" market. Customers are patient. They get it. Investors are lining up. The industry is watching. Soon, they'll be imitating. For good reason. It's about time.
Why we love Everlane.
Two words: Attention and simplicity. And then two others: Radical Transparency. It took an outsider to experiment with an insider industry such as apparel and challenge the industry norm while demanding more at every step. Like Yves Chouinard at Patagonia, founder Michael Preysman saw the value in people buying one or two good things; the value in loyalty and in building such loyalty by way of understanding where value is derived. In being attentive to the details, to the market, to the factories, and to the customer. To what the customer wanted in the manner in which they wanted to acquire it. More overtly so than Chouinard, however, Preysman is attuned to price. And while both fellows are natural designers, constantly editing to trim down a paragraph or a shirt to its bare essentials, Preysman and Everlane have made simplicity an obsession. From sourcing through production, marketing and onto the final transaction, simplicity is not a reward. It's a value. The value. And value is its essence.