A breezy new expression of the taste of Italy. In Chicago.
Background
Formerly 'Nduja Artisans, OVO helped to rebrand the venerable Chicago salumi makers as Tempesta, a reference to the Roman goddess of storms; all the while, presenting a friendly nod to The Windy City's own reputation for temperamental weather.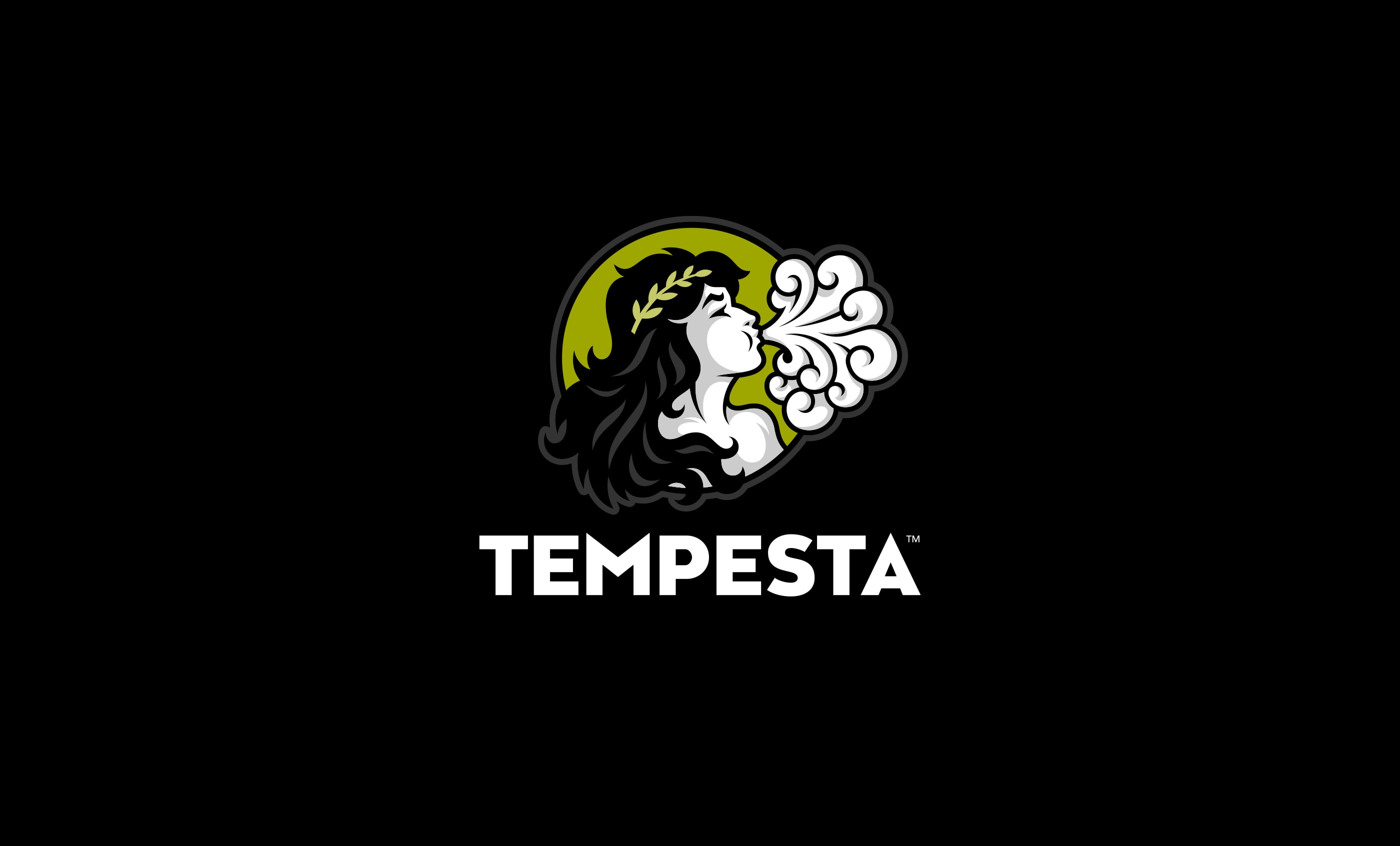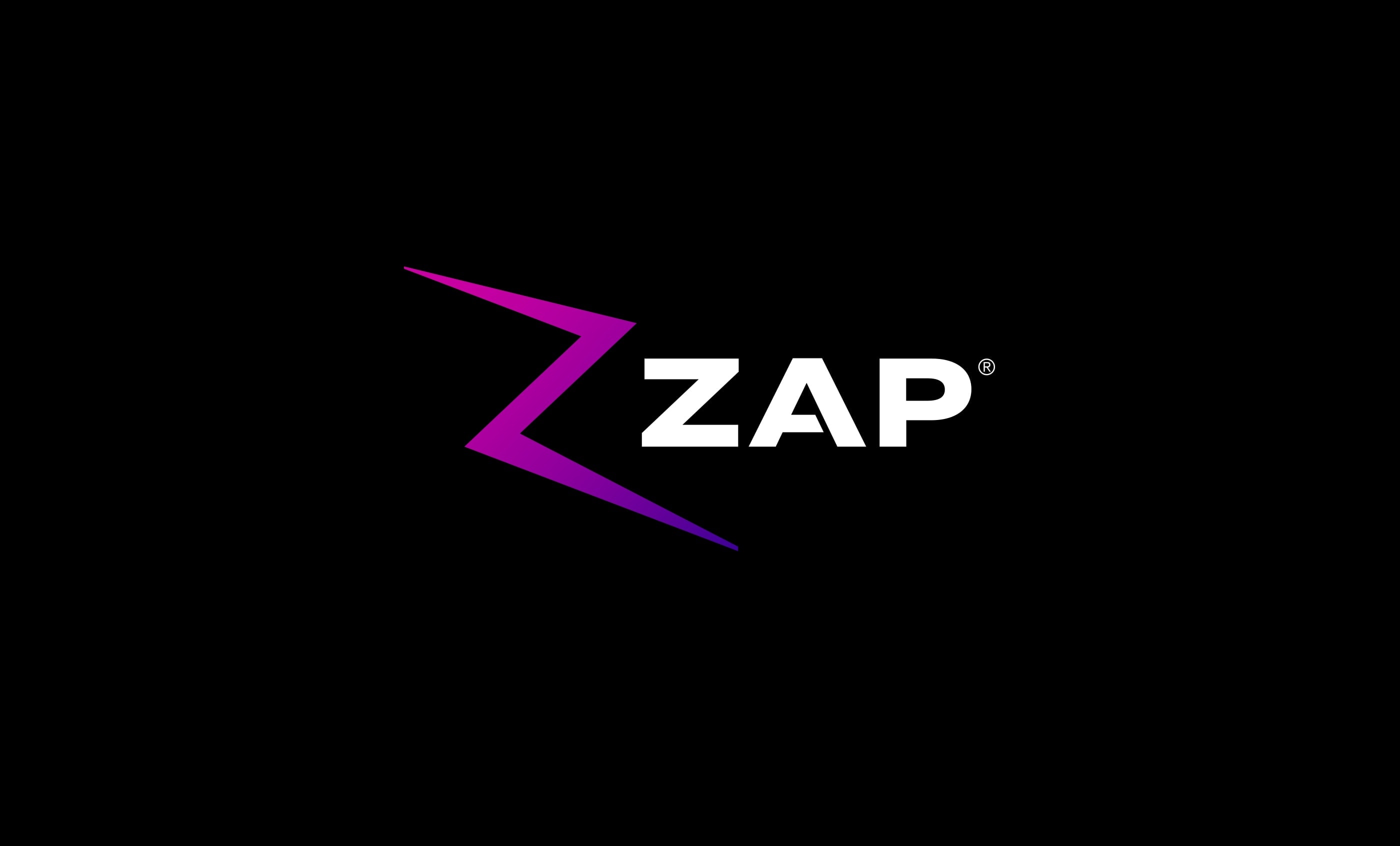 Tempesta Trademark
For the uninitiated, 'nduja is the deliciously fiery and spreadable pork salami from Italy. If it sounds a bit like France's famous andouille, it's because there is an historic connection. It's just that 'nduja is even harder to say for most Americans. But in our view (and don't tell the French), it's vastly more delicious.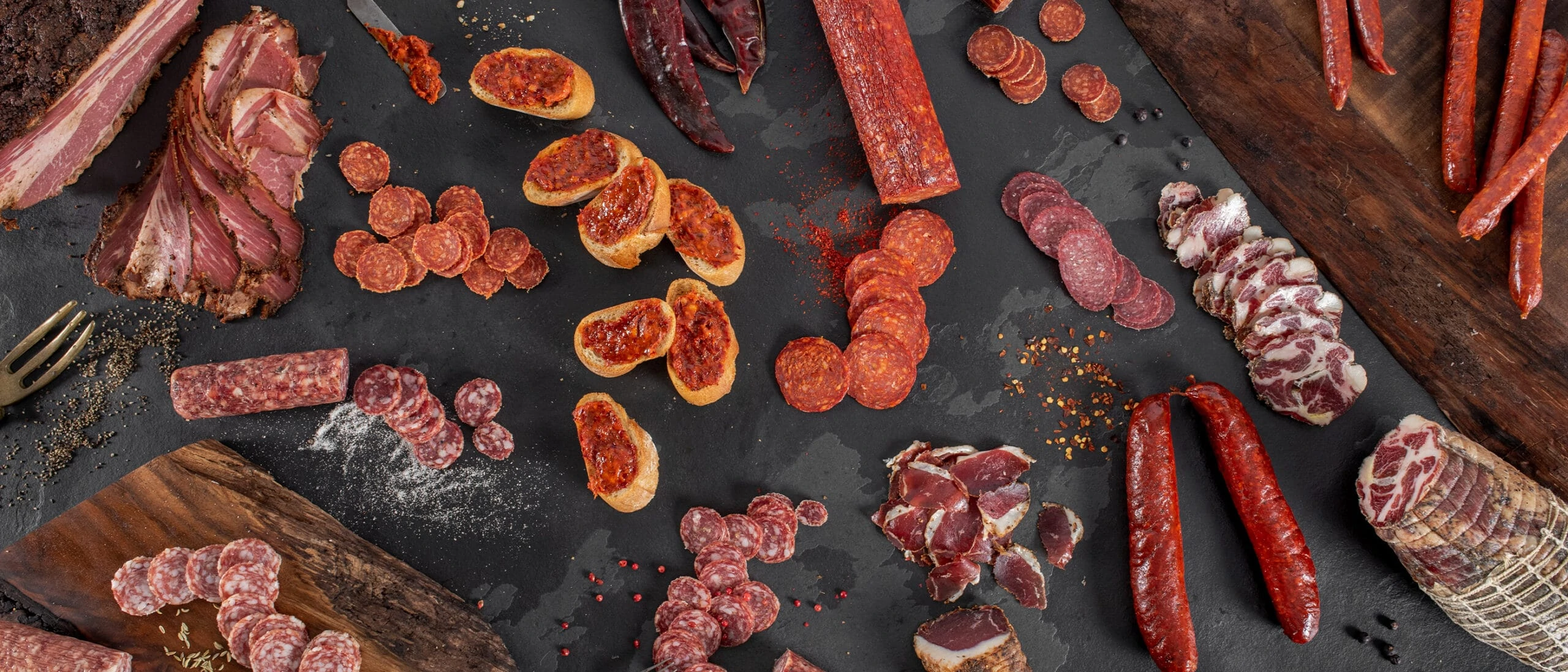 Tempesta Product Spread | ©Aubrie LeGault Photography
Issues of pronunciation aside, 'Nduja Artisans was already planning to actively expand its line of heritage breed pork to include Soppressata, Finocchiona, Tartufo, and a deliciously beefy Wagyu Salami di Manzo, among others. The company had grown out of its most famous offering and found itself challenged by a single-product reference to 'nduja. It's hardly a problem that is unique to them. We see it all the time; where a planned product expansion (or extension) by a company originally named after one product later becomes limited by that handle. Think Batteries Plus. Which is now Batteries Plus Bulbs (and now, also offers fixtures, repairs, and other services).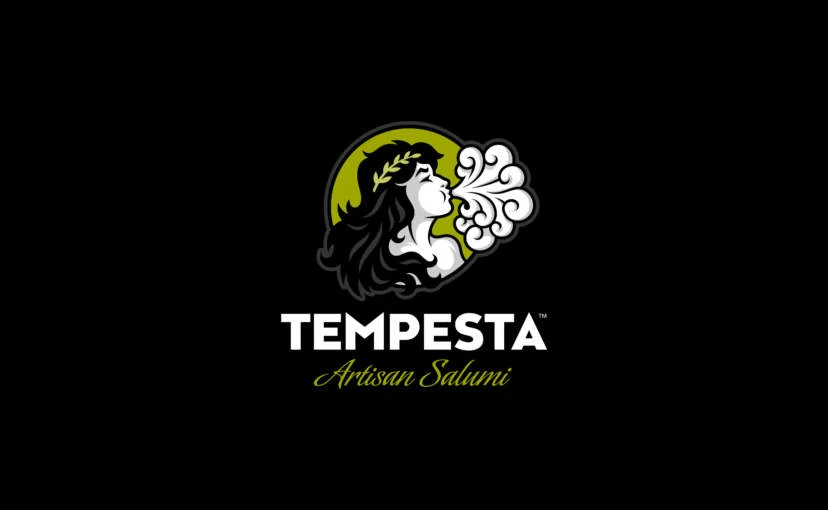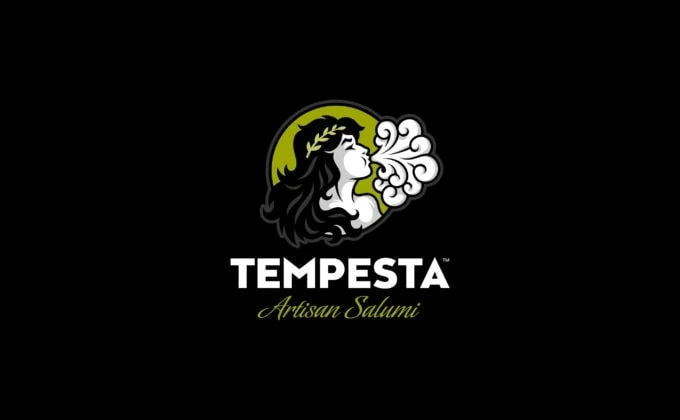 Tempesta Trademarks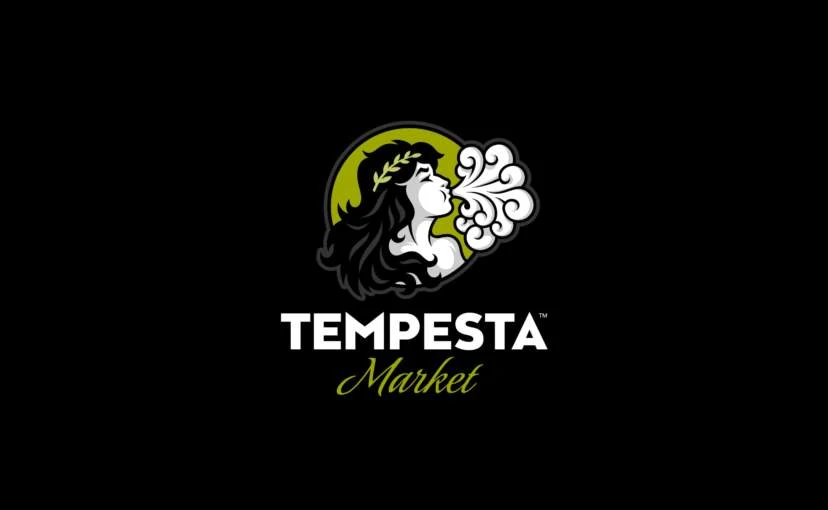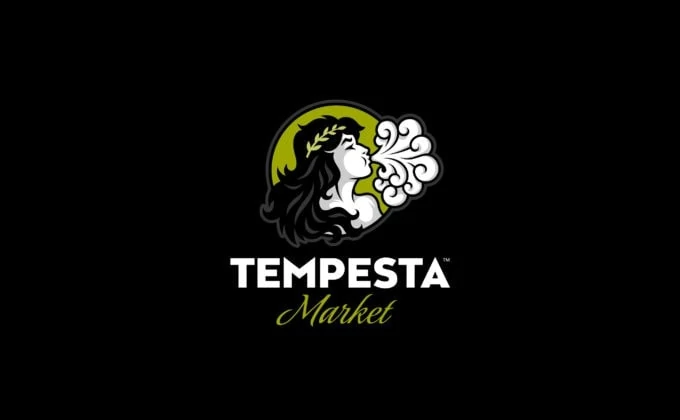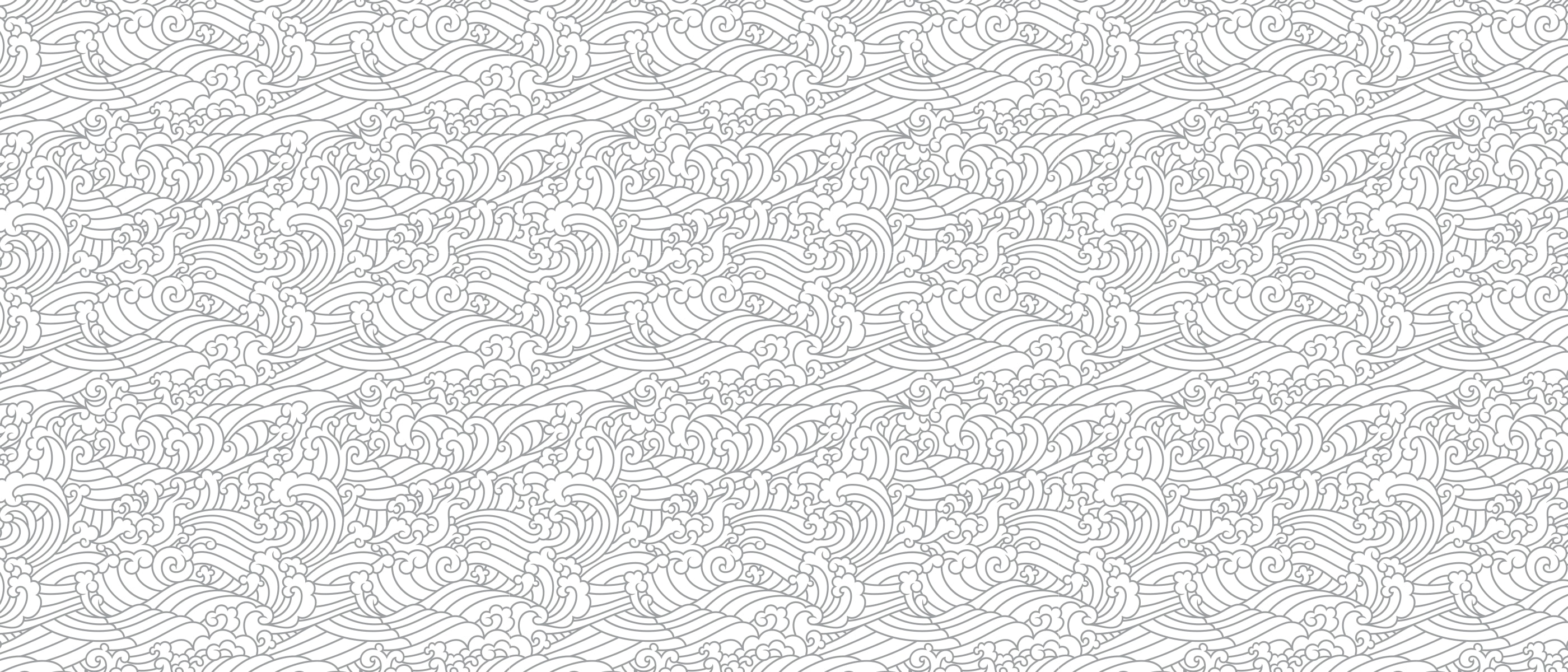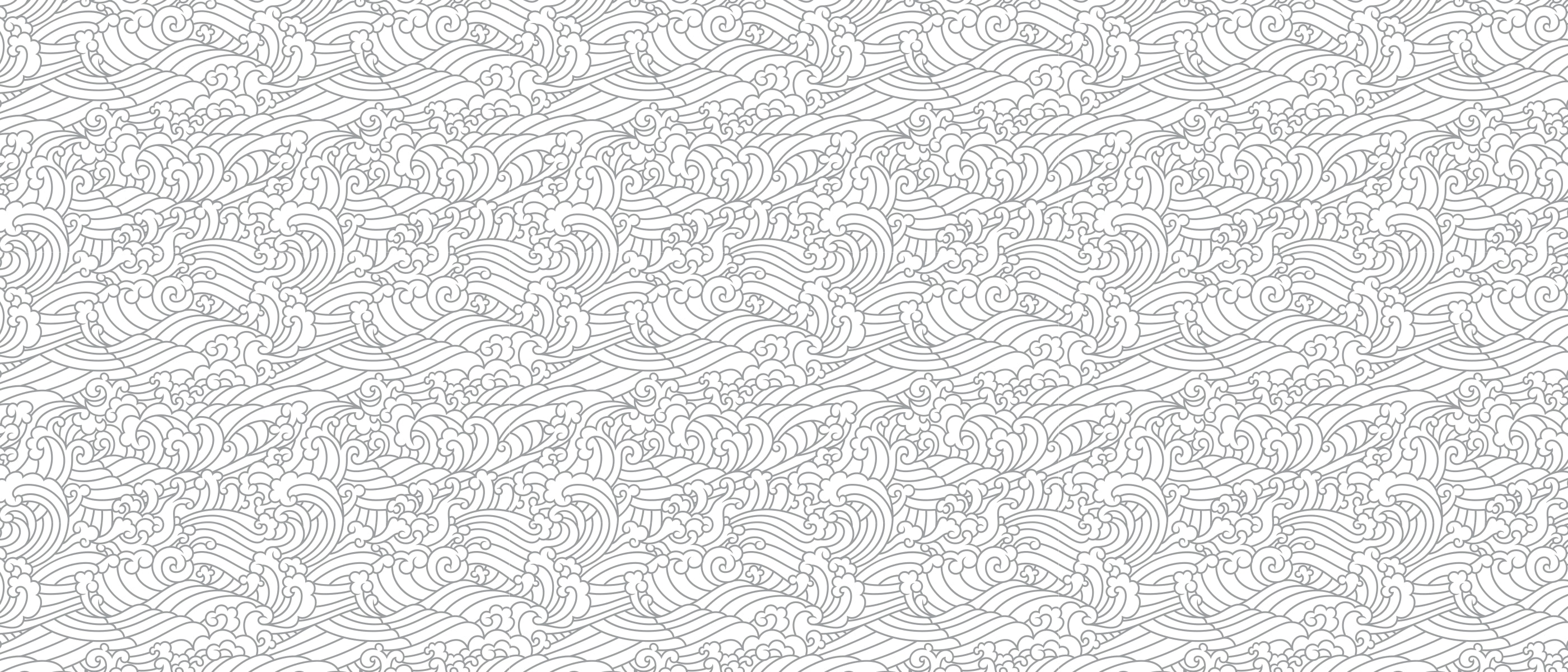 Tempesta Pattern
It became exceedingly clear that a name change was eminent. And that it would need to be an impassioned expression of Italy.  

The culmination of more than five generations and 100 years of craft, Tempesta is rooted in an immersive Calabrian legacy of making unapologetically authentic and inspired salumi. Under the on-going artisanal stewardship of a father and son — Agostino and Antonio Fiasche — Tempesta is seeing its expanding product line blow into new markets across the country. And to be clear, it's not as though the company didn't already have a stellar reputation for its products. It did. Some of the best restaurants in the U.S. passed off Tempesta's handmade salumi as their own "house-made" offerings. Others credited the maker proudly. The food awards folks, such as Good Food Awards and Specialty Food Association (respectively, the "GFAs" and "sofis" to culinary insiders) showered lofty praise. Bon Appétit magazine called it "Legendary."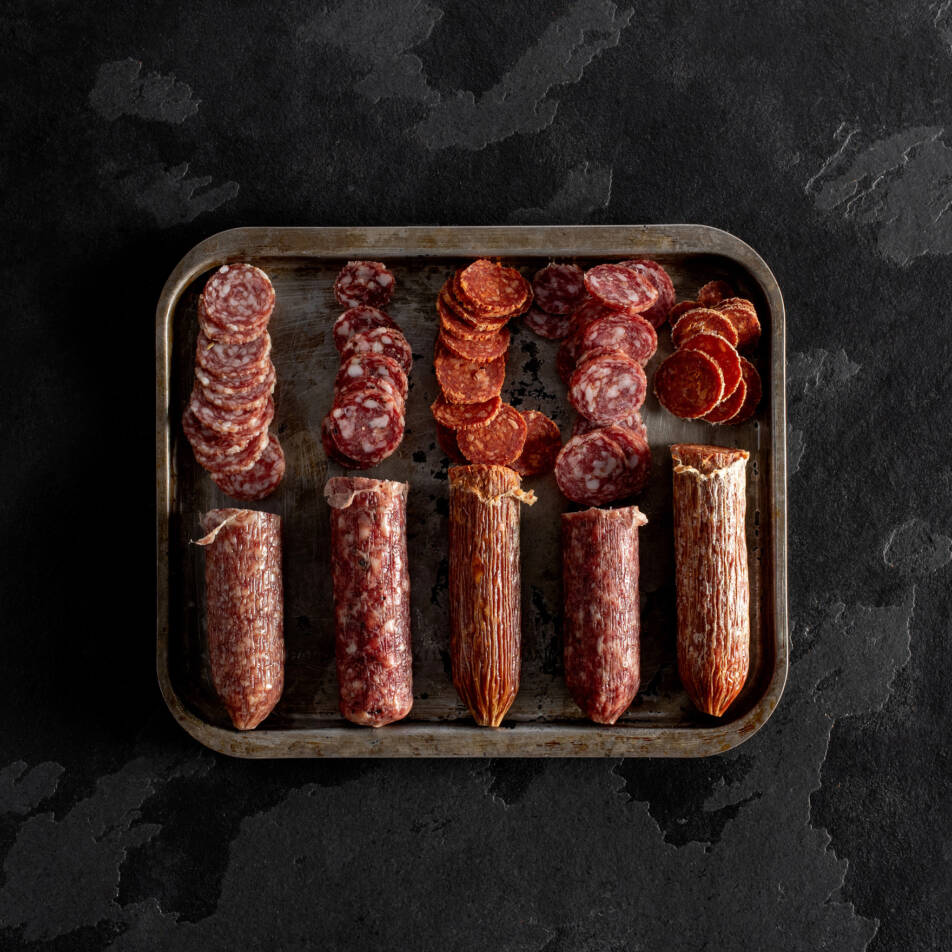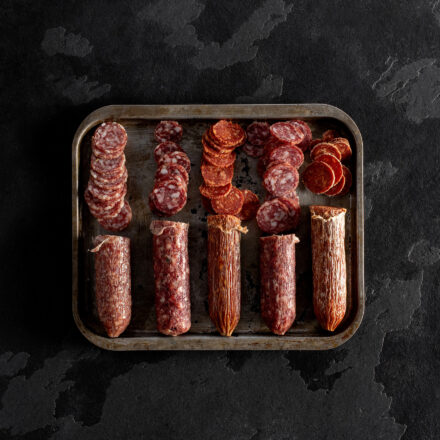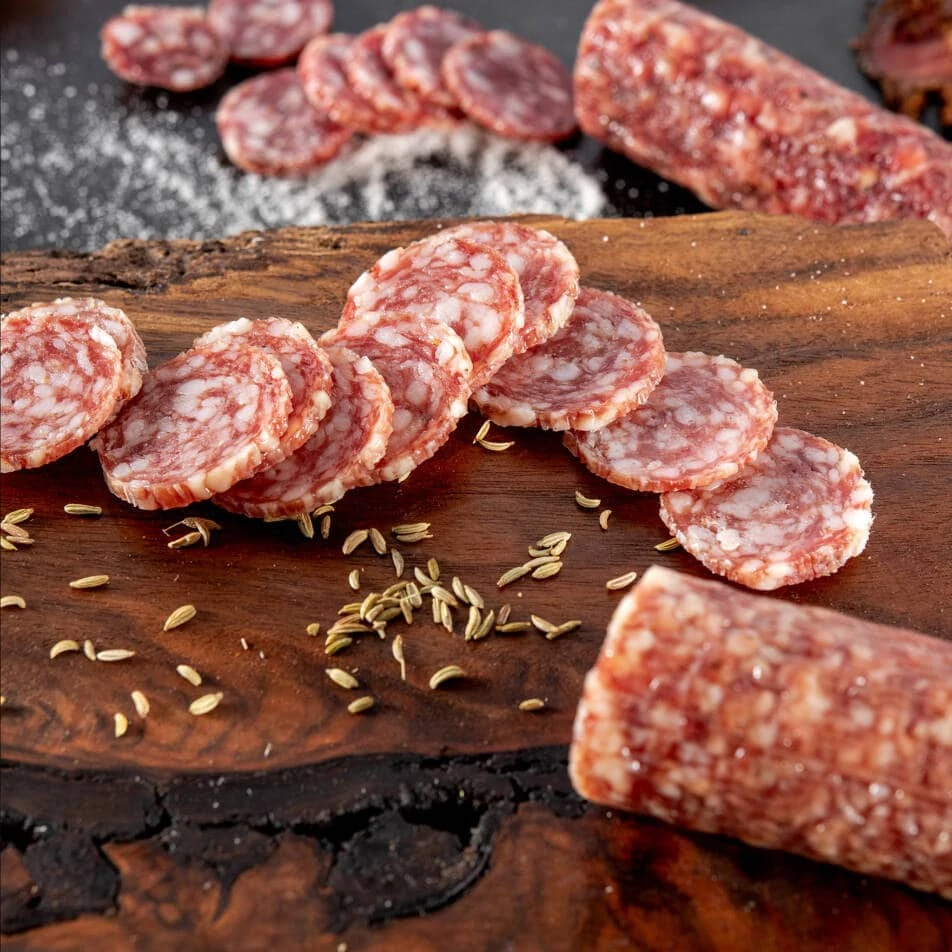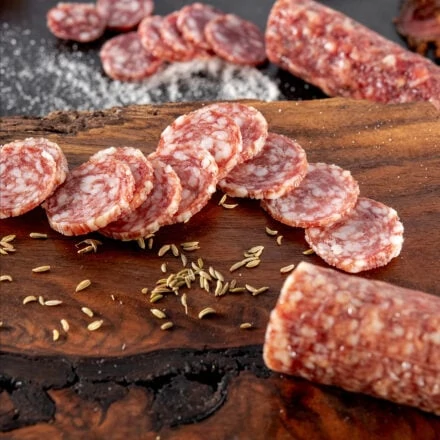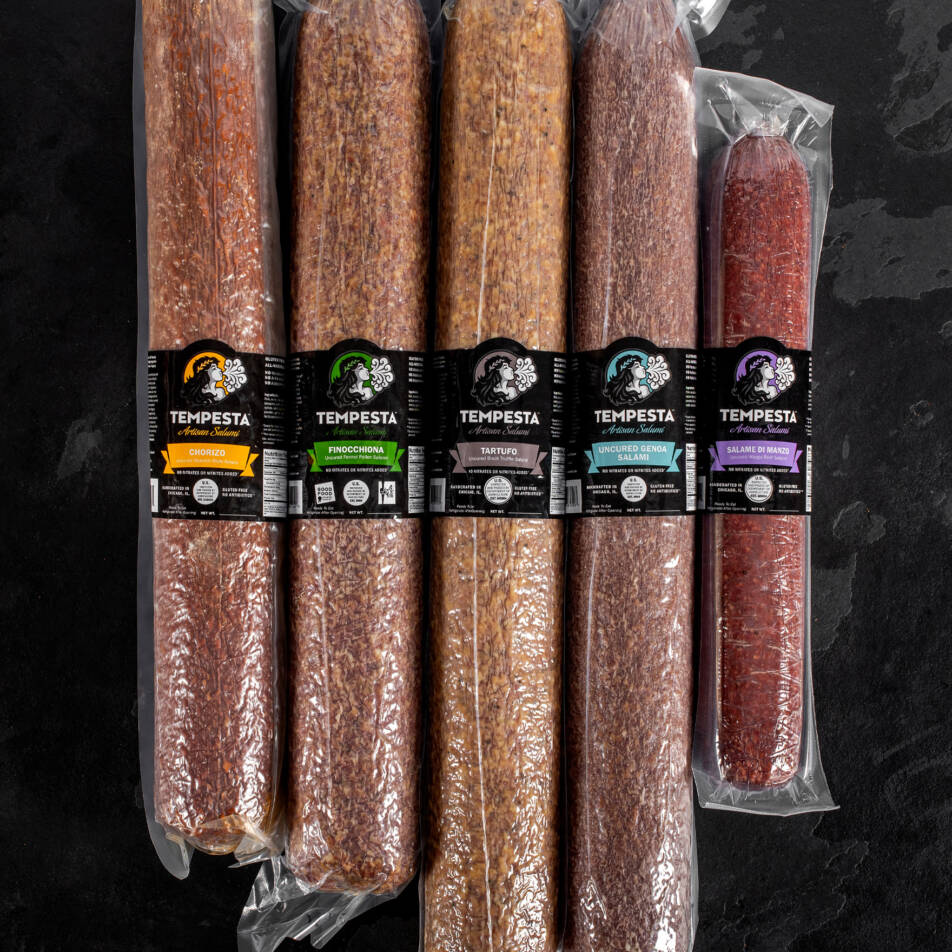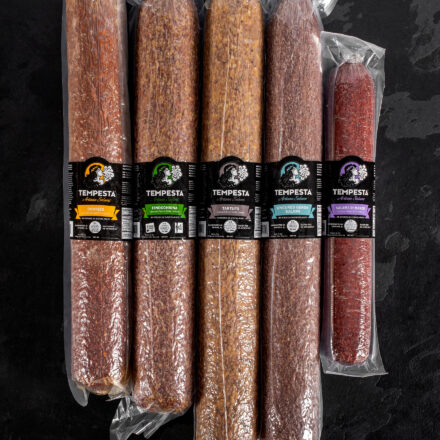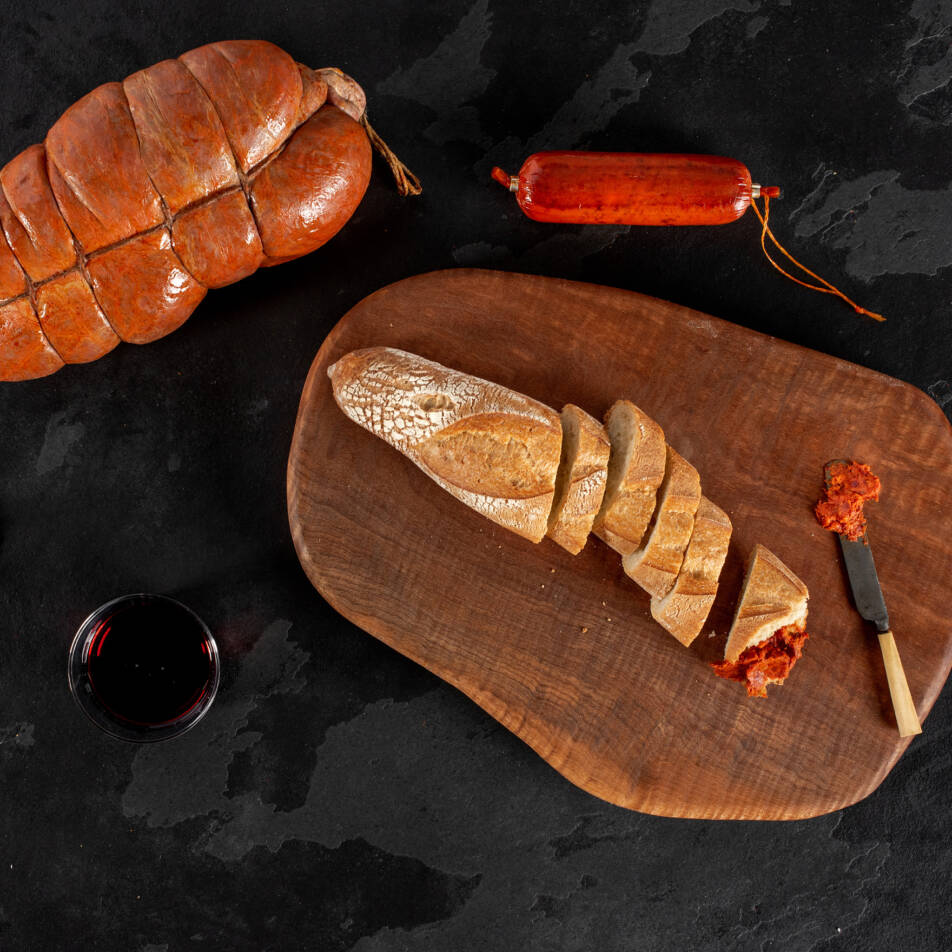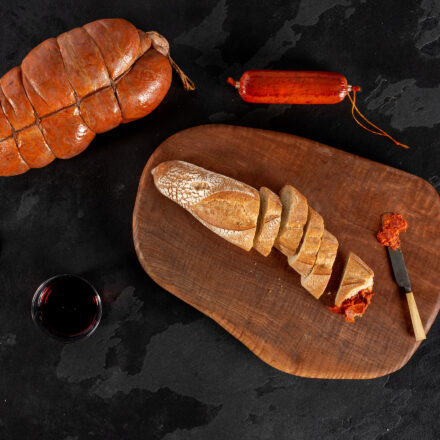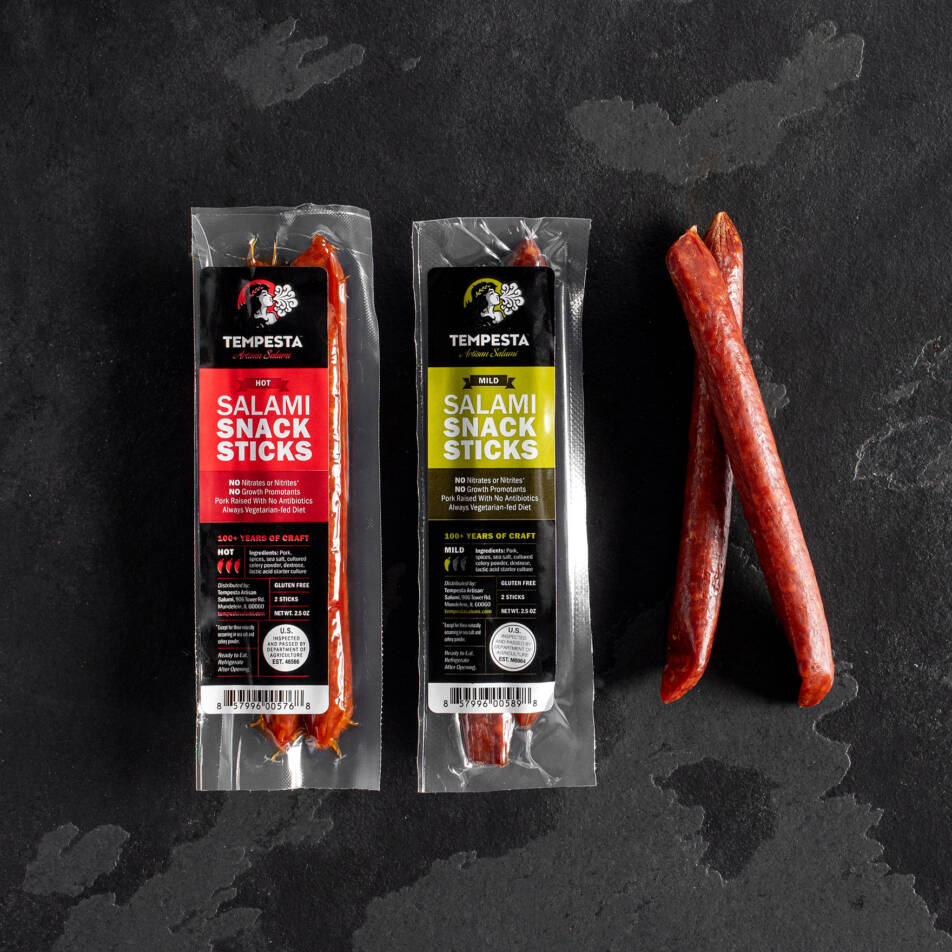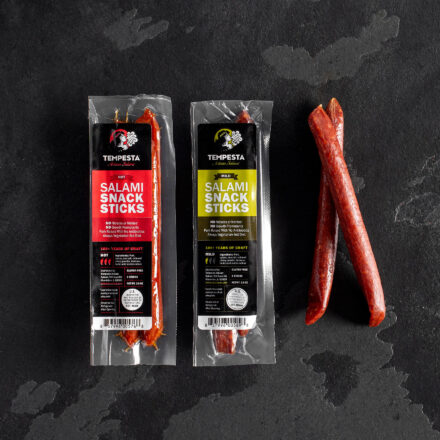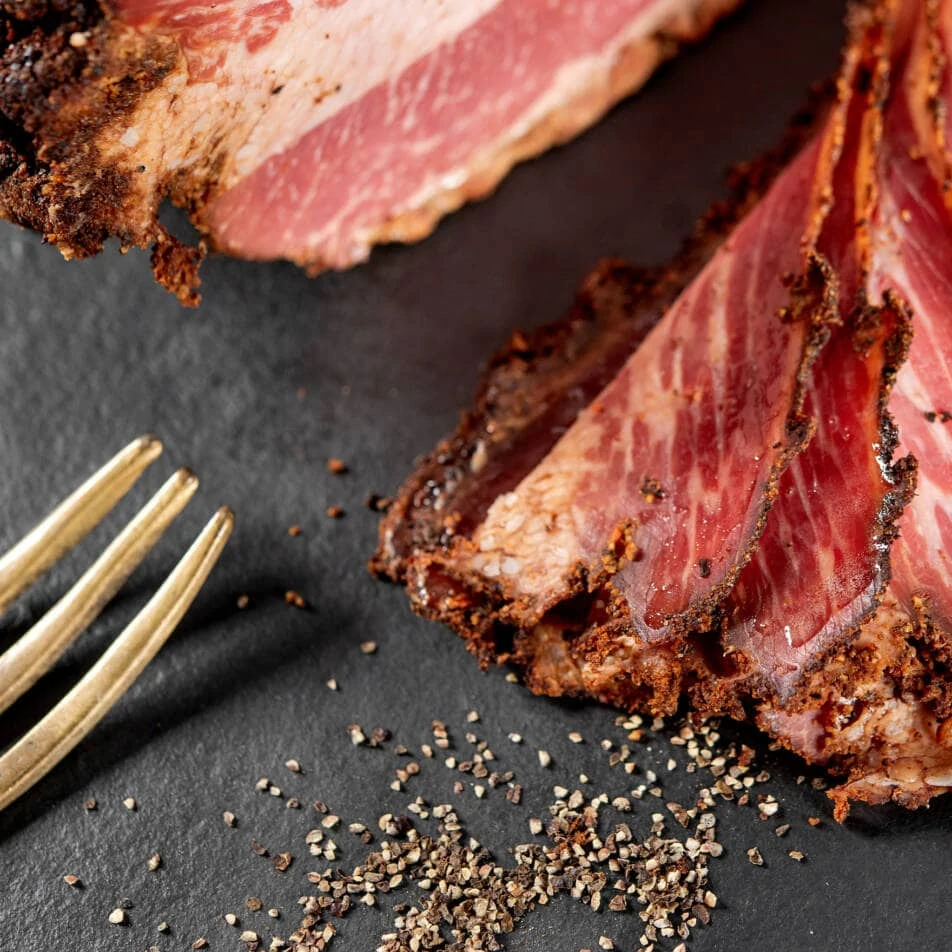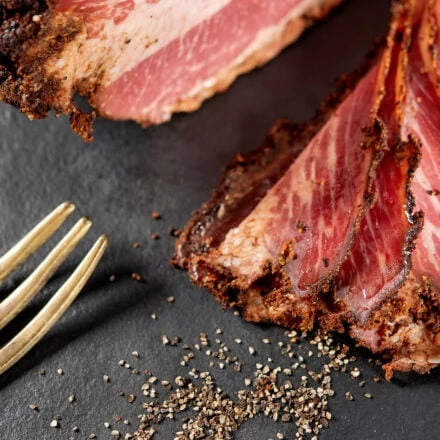 Crafting a fresh brand
OVO guided Tempesta through each phase of the naming process, while working to reposition the beloved family-owned Chicago salumeria in an effort to introduce their growing product line to more specialty retailers as well as directly to consumers. In the tradition of old world grocer-delis, Tempesta Market would also offer a full-service neighborhood shop for visitors wanting to bring home the best Italian staples, as well as other prepared fare like charcuterie, gelate, and craft sandwiches to be enjoyed in-house.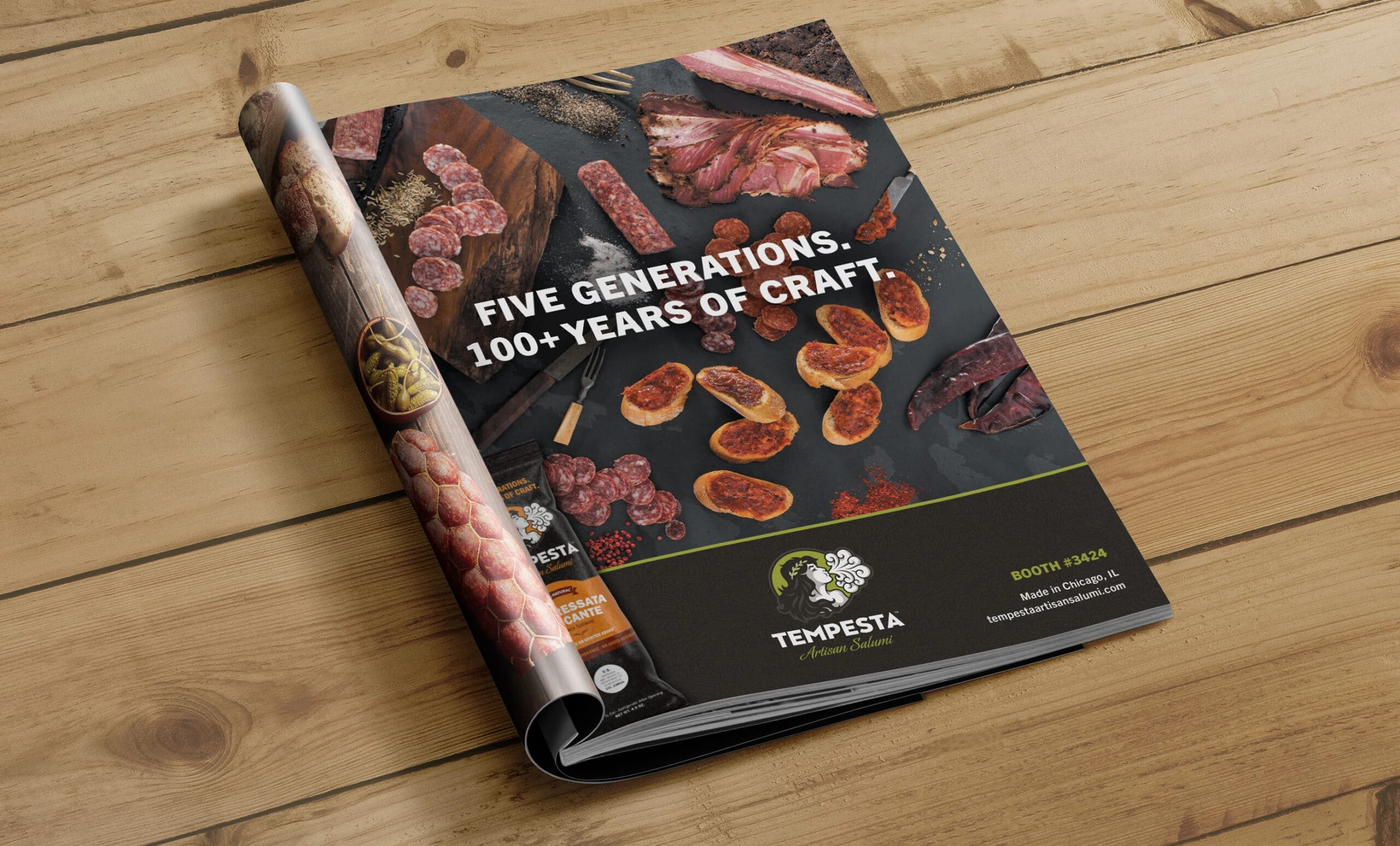 Winter Fancy Food Ad Design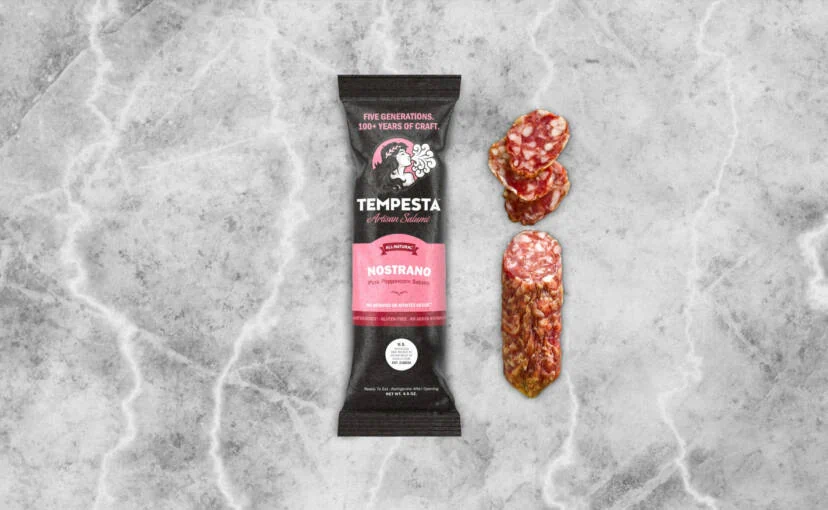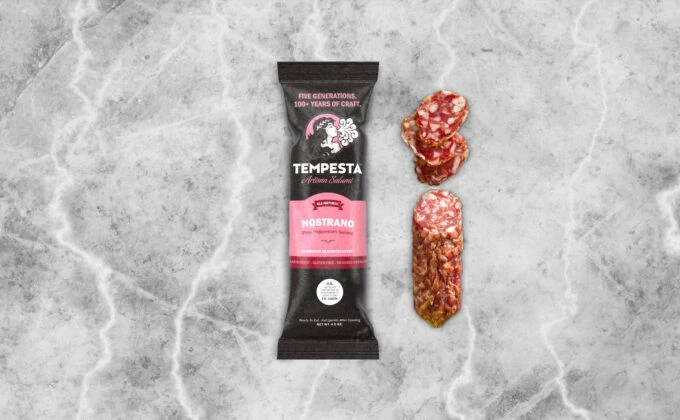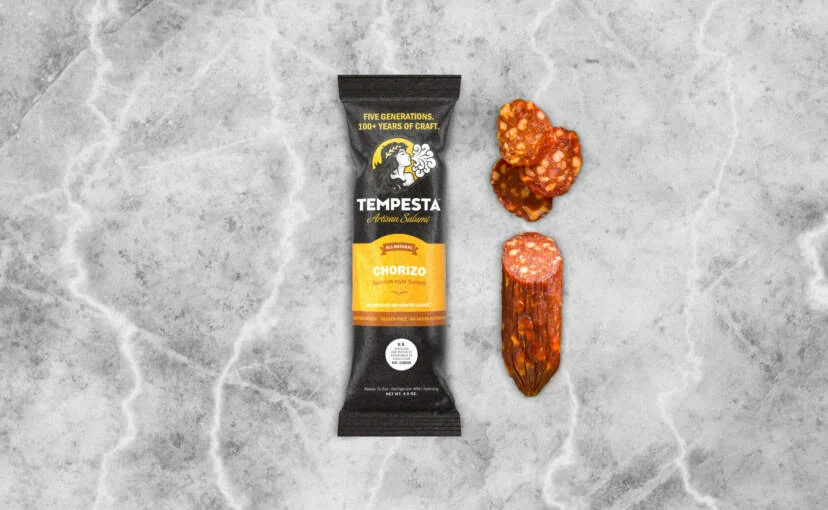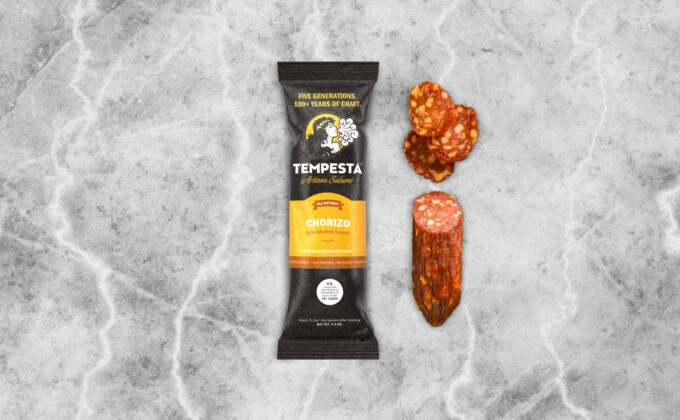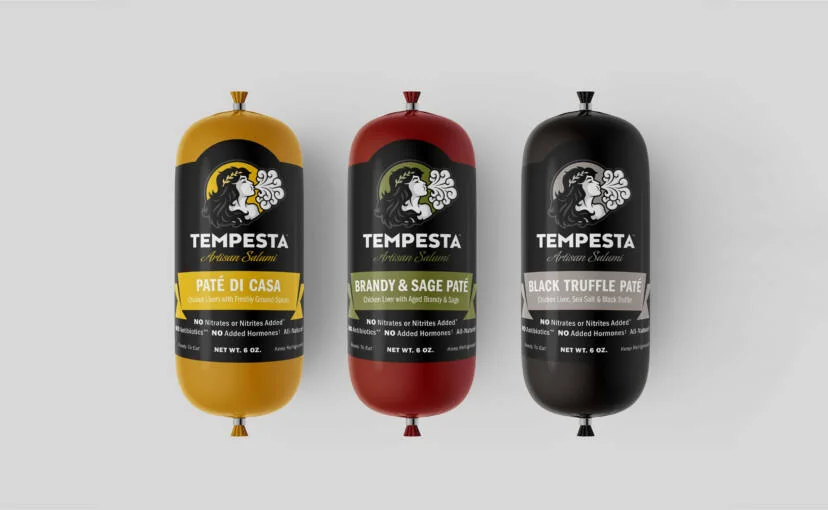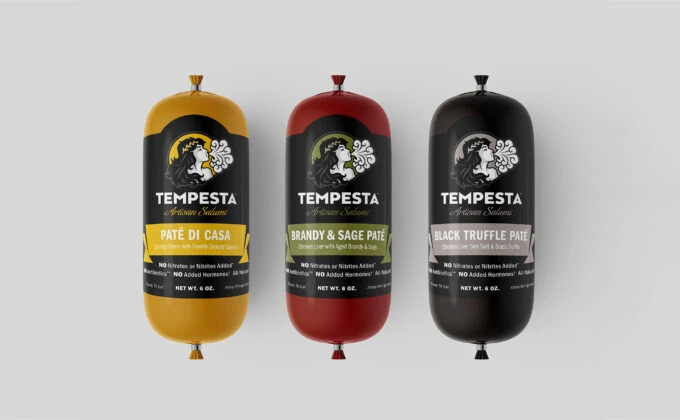 Tempesta Pâté Retail Line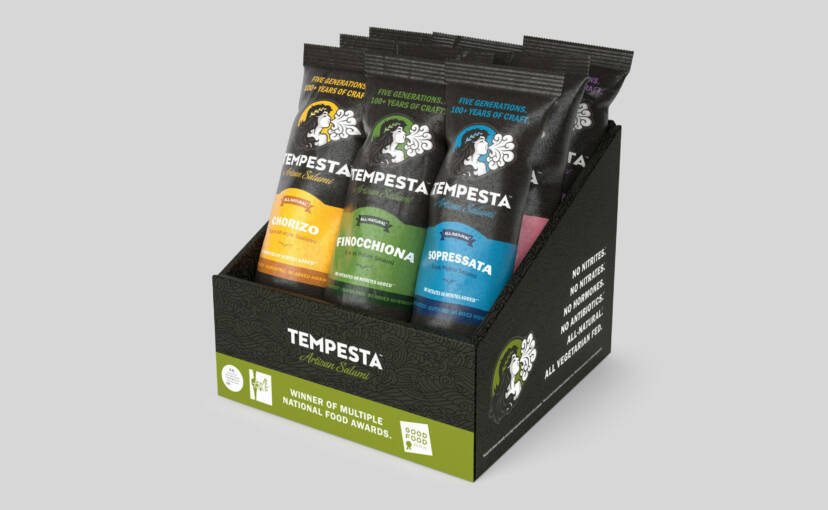 Display Box and Salame Packaging Design
Of course, the visual reference began with rendering Tempesta's profile; gorgeous in her powerful gust and yet crowned with a peacefully settled olive branch. That idea led to a custom illustrated pattern which would also represent her gale force while enveloping all of the company's cased Calabrian delicacies. As the foundation for future product packaging, these elements established a visual system that will continue to mature.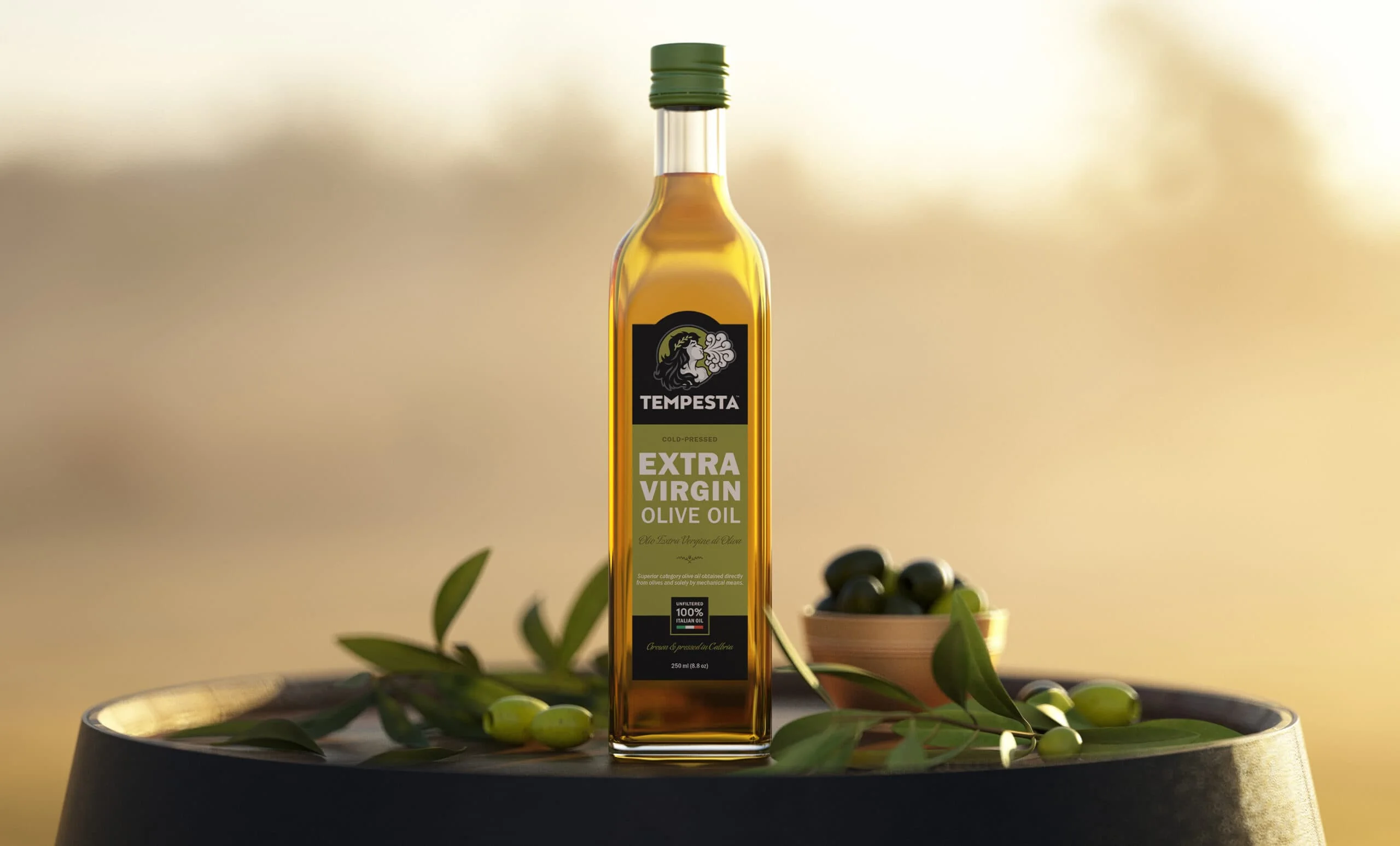 Tempesta Olive Oil Label Design
In the near term, our work with Tempesta will roll out point-of-purchase displays, extended packaging solutions, trade show properties, signage, and sales materials for national distributors. While merely a slice of what is yet to come, we look forward to collaborating with Tempesta in order to best prepare for the next hundred years.