Universal Technical Institute
Since 1965, Universal Technical Institute (NYSE: UTI) has been the leader in training students for successful careers in the automotive, diesel, motorcycle, marine, and collision repair industries. Headquartered in Scottsdale, Arizona and with multiple campuses throughout the U.S., UTI is unique due to its partnerships with brands such as Mercedes-Benz, Porsche, Ford, Harley-Davidson, Freightliner, and thirty-plus other industry leaders.
But even so, like other for-profit educational entities, UTI was facing headwinds. In response, they mounted a nation-wide agency search for a partner to lead a brand refresh.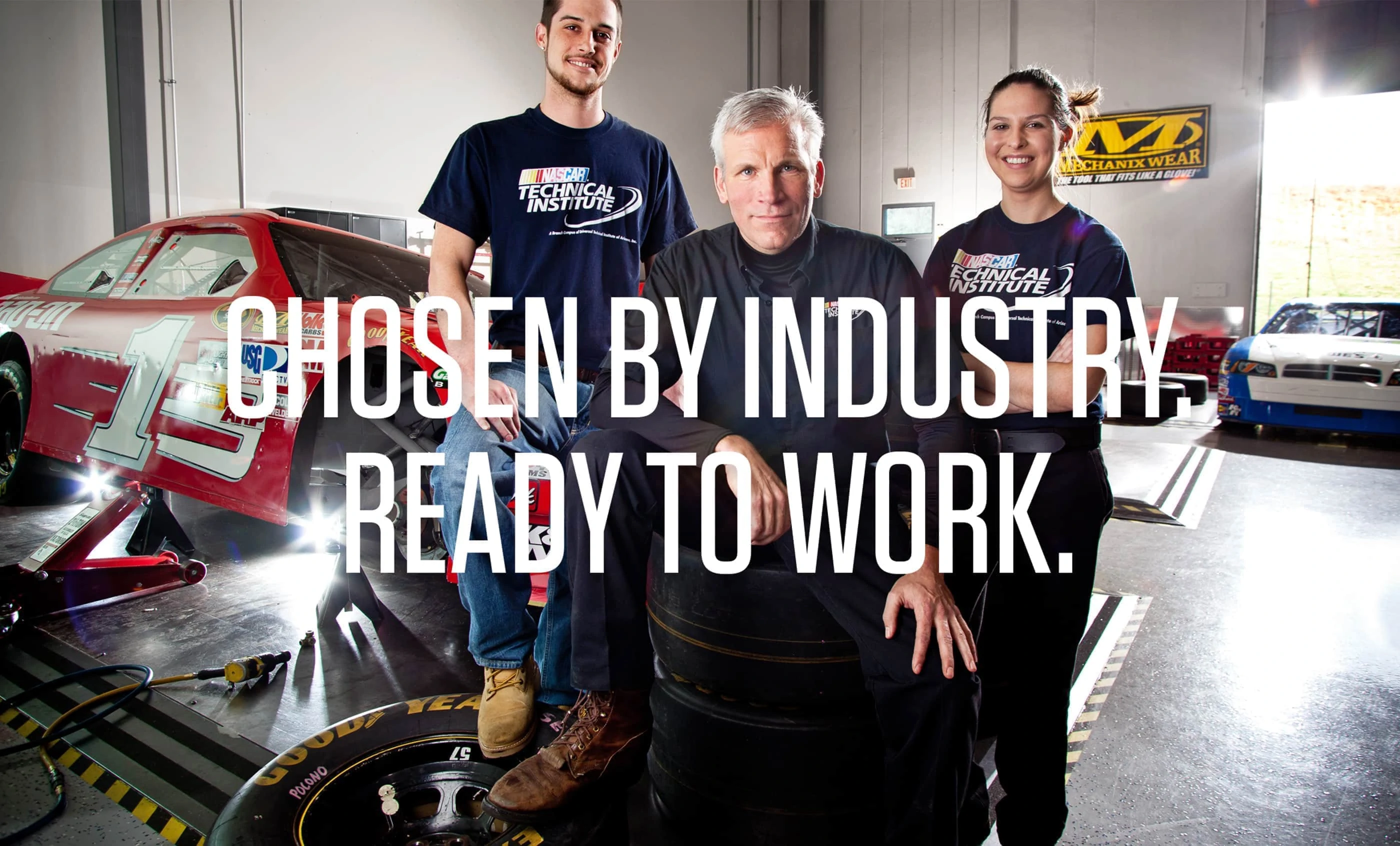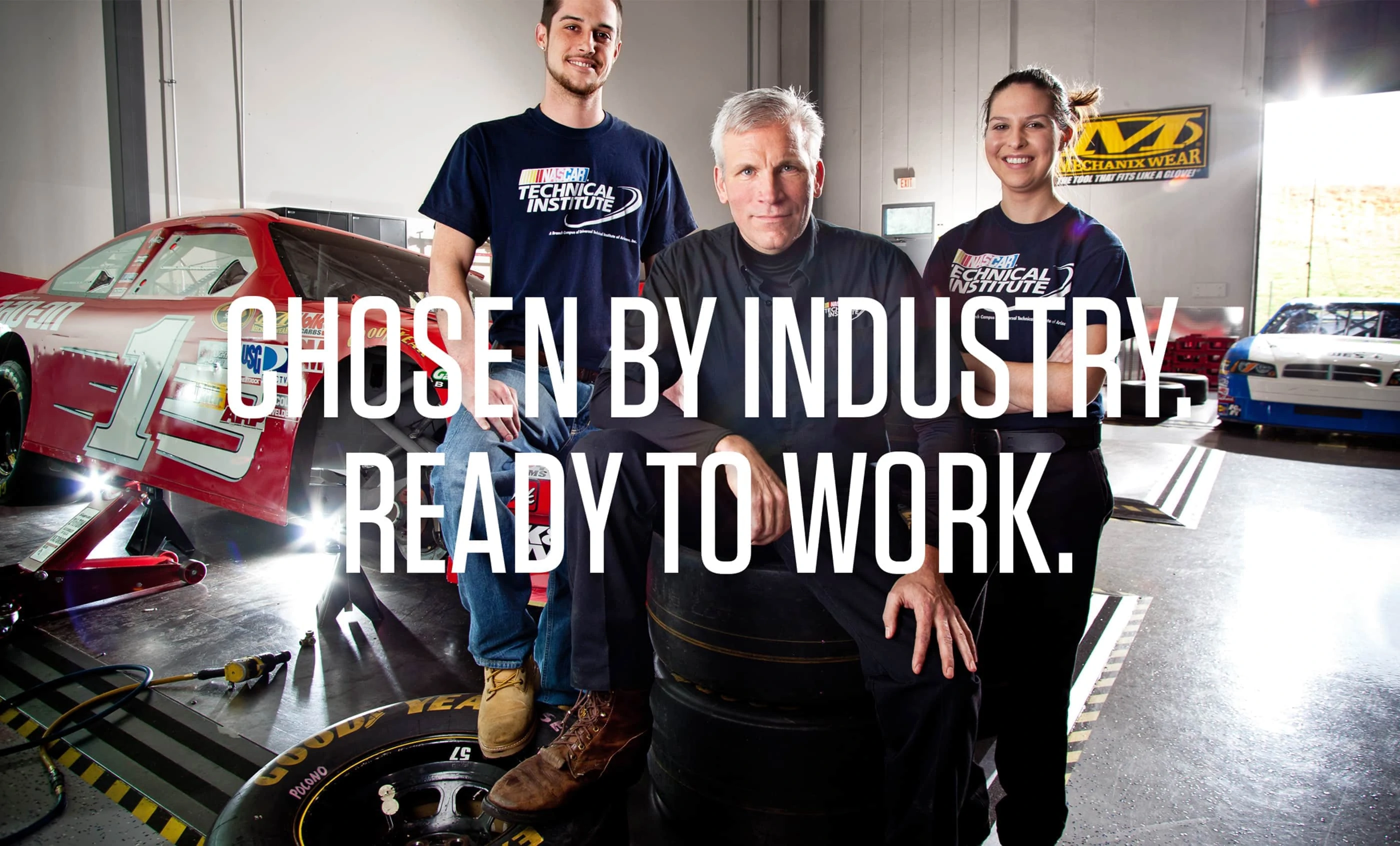 Chosen By Industry. Ready to Work. The brand positioning was successful internally and externally by addressing how UTI delivered its promise to student technicians and its industry partners. No other training program could make the same claim. Most importantly, it helped focus the company on a consistent value proposition that would inform all brand activities for years to come.
When OVO was selected, it became abundantly clear that more than an update to a visual identity system would be necessary; UTI would be best served by revisiting their core brand strategy and fine-tuning their messaging. Yes, an update to their visual system was in order. But the issues were deeper than that.
Early interviews with the project team and executives, as well as analysis of UTI's own existing research would reveal that the value of such training was not entirely clear for prospective students. Further, the manufacturers and service departments—the employment market for UTI graduates—were demanding more from the technicians they would eventually hire. They expected recent graduates to be fully prepared to work on their brands.
For the UTI, nearly everything was open for discussion, as long as the outcomes could be substantiated. However, the project team made it clear that there were two required points of understanding that would inform the brand work OVO would be addressing.
First, the UTI name (with its unfortunate acronym) was not to change. In the view of UTI, its perceived equity was too valuable and the related costs were considered too substantial. We understood the position and respected the associated costs in considering a name change at this scale. UTI was a known quantity among student prospects and industry leaders.
Second, we were informed that any core brand efforts must be constructed around the concept of "Industry's Choice"; an idea that we believed came with considerable merit, but that had fallen short in terms of execution within the organization. As a result, the concept was simply not clear among prospective students, supporters, and partners.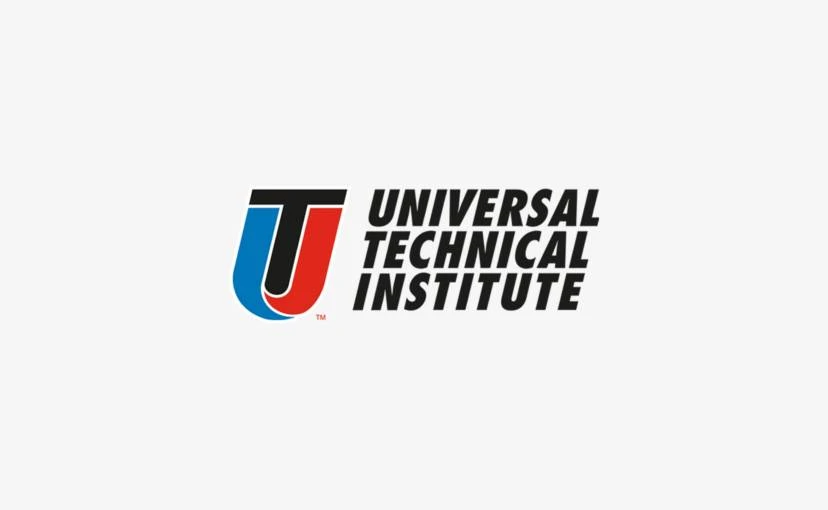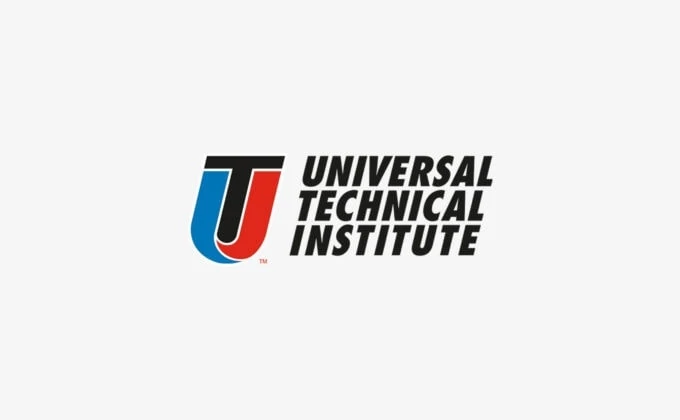 Previous Trademark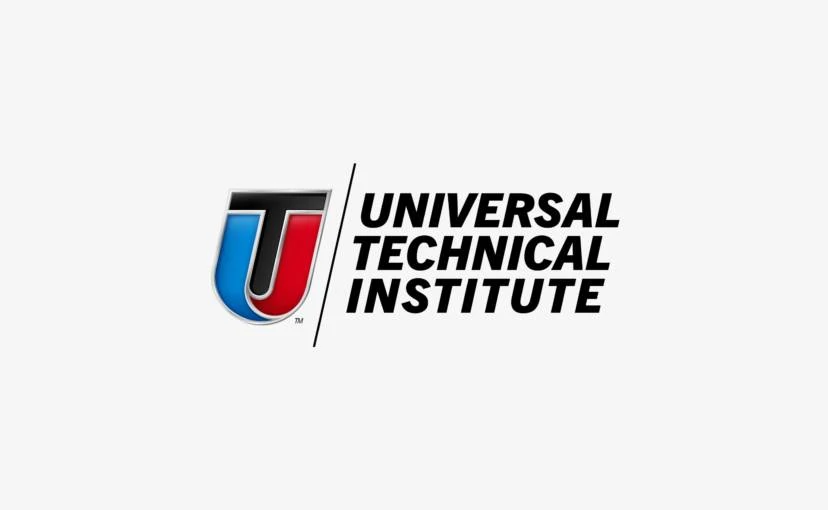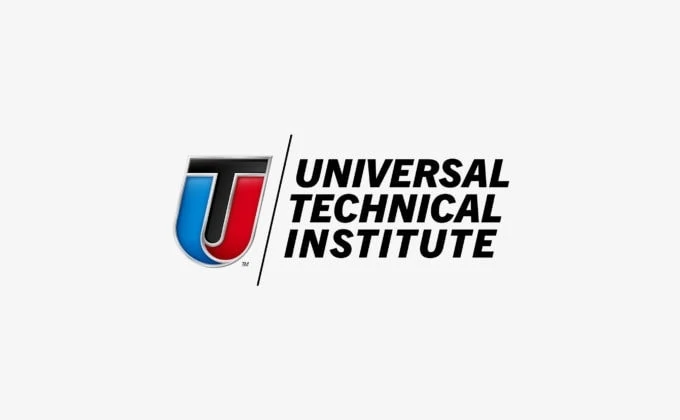 Redesigned Trademark
For OVO, the "Industry's Choice" concept was not met as a liability, as many of UTI's previous agencies had approached it. Rather, we saw that it could provide a clear and present opportunity to differentiate UTI from its competition. We recognized that at its core, "Industry's Choice" conveyed a business model that was unique from other training schools. But like other schools, for which the curriculum provided students with the training to work as technicians, "Industry's Choice" was as much about attracting and leveraging exclusive industry partnerships.
Why was this important? Because UTI was making a deeper promise: To be the inside track for the best industry brands to select and recruit students who had direct experience using the very same tools, equipment, and training used by the manufacturer. Like other schools, UTI was seen by prospective students as a necessary step toward employment. Unlike other programs, however, UTI was positioned to be the inside line to the most sought-after jobs in the industry. This meant that student graduates could find jobs with the brands that they were most passionate about. And that the brands could have access to the most qualified graduates. A win-win for both sides.
The key was in communicating that UTI and their students represented the best choice for manufacturers in every specialty; be it auto, motorcycle, diesel, marine, collision repair or racing. Until OVO was engaged to develop the framework, UTI had experienced significant difficulty in drawing the direct line between what the Arizona-based training school could deliver and how they were being perceived in the market. This needed to change.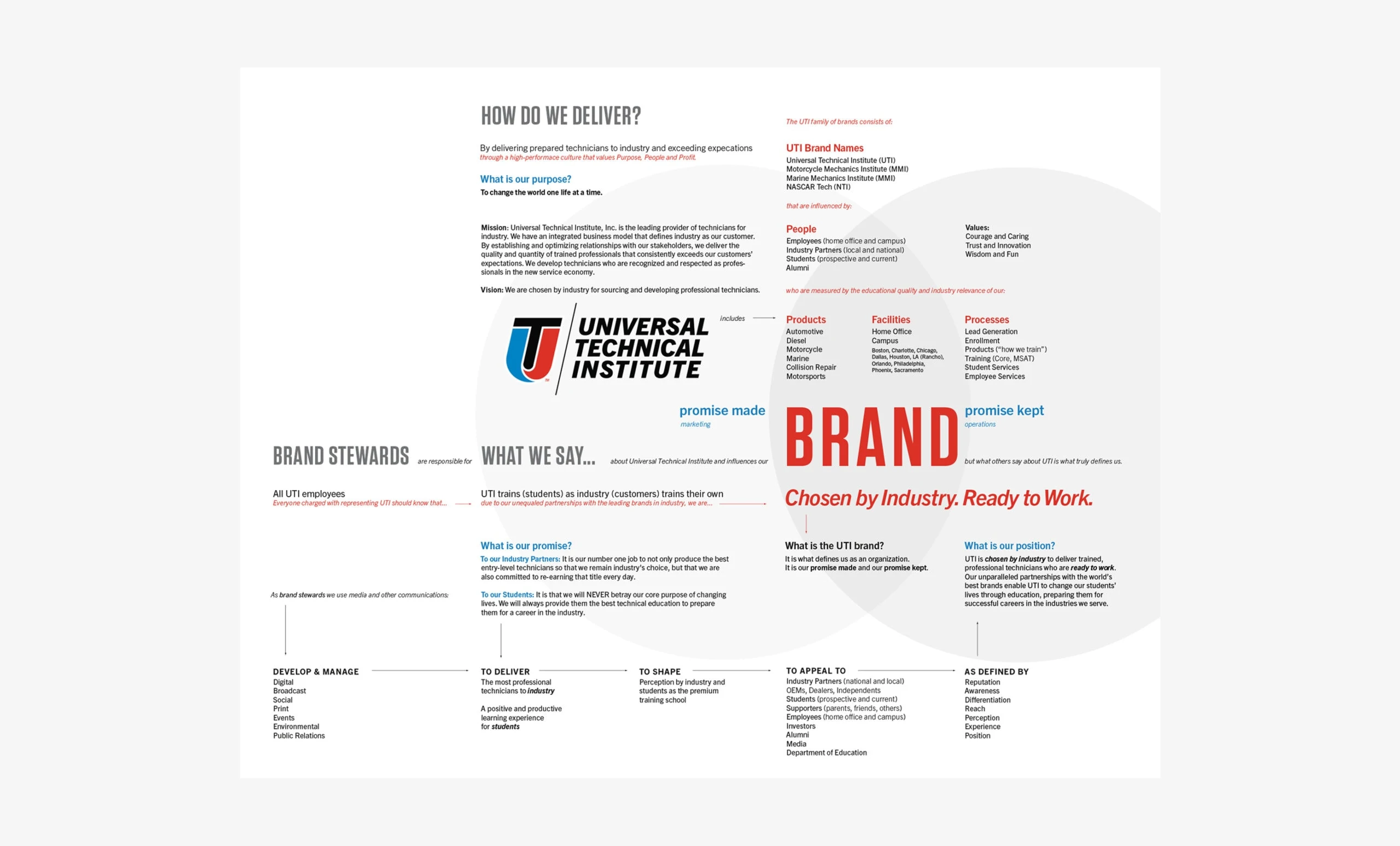 OVO designed a single-page Brand Map for UTI to better define core terminology, messaging, objectives and responsibilities assigned to each person managing the relationships associated with a complex brand architecture.
While the climate in for-profit education was being challenged, research indicated a bright future for well-qualified technicians. Sensing this opportunity, UTI had previously invested in their infrastructure by opening new campuses and acquiring MMI (Motorcycle Mechanics Institute and Marine Mechanics Institute). The MMI brand enjoyed a healthy reputation as the premier training provider for the motorcycle and marine industries. With established programs in automotive, diesel, and collision repair (and a growing relationship with NASCAR) in key markets, UTI would be poised to be the informed choice for prospective students. Those brands, of course, all needed to align.
But our research also exposed significant challenges.
As with the cost of college, attending a premier school is expensive. Further, studies confirmed that student prospects in this field seldom had positive experiences with traditional learning and many had formed negative perceptions of school in general. Even when qualified prospects had applied, enroll-to-show rates were lagging. Analysis clearly showed that prospects were eager to get to work, but that they lacked the initiative to invest the time and money to take the steps to receive the training. Acquisitions and rapid growth on the part of Universal Technical Institute — which included entry into several new markets—confirmed a desperate need to reestablish a clear sense of identity. A global recession, increased regulation by the Department of Education, and despite UTI's own excellent reputation and outcomes, negative industry-wide publicity was proving increasingly difficult to overcome.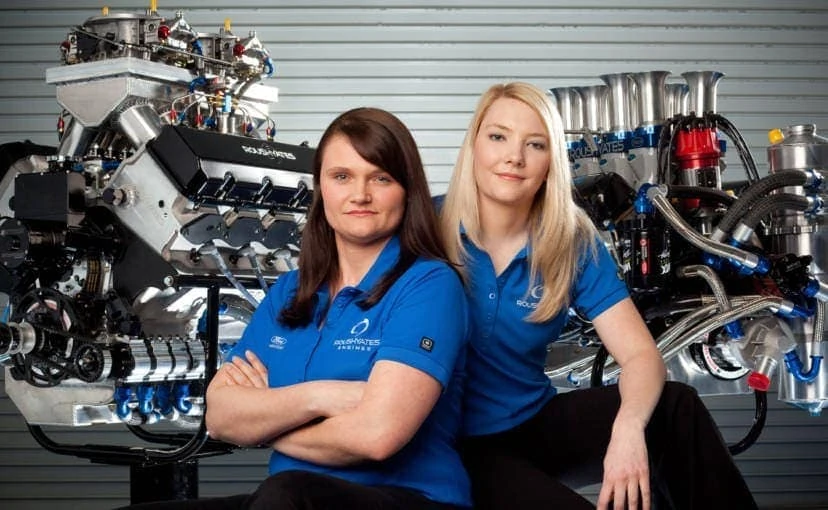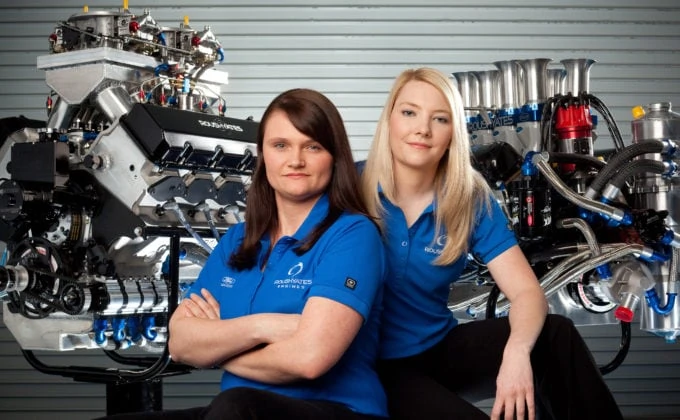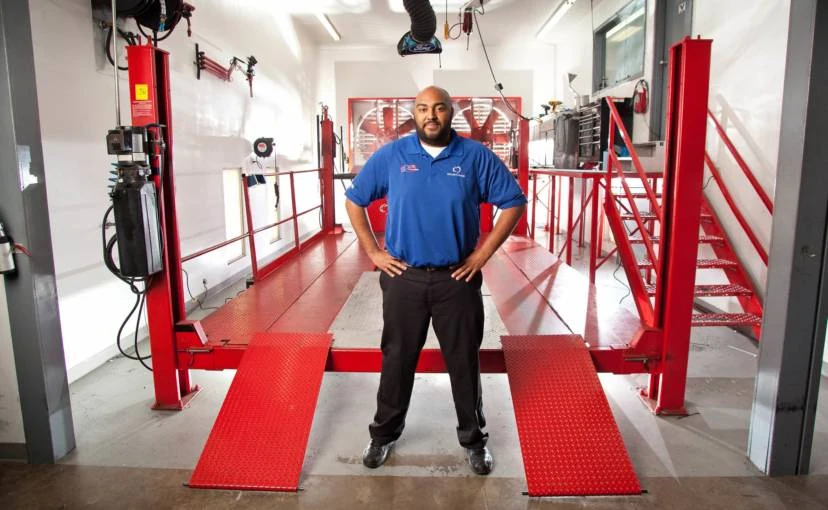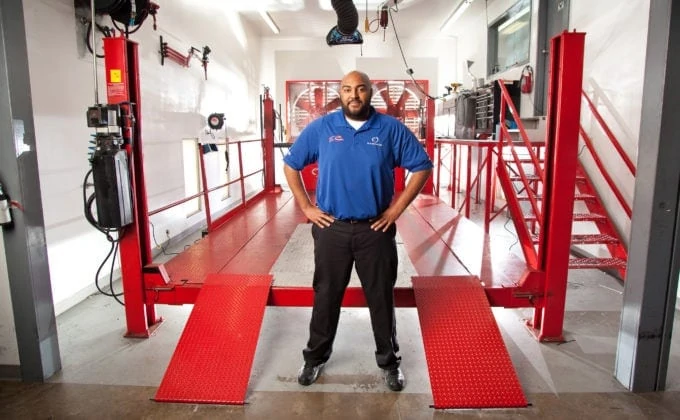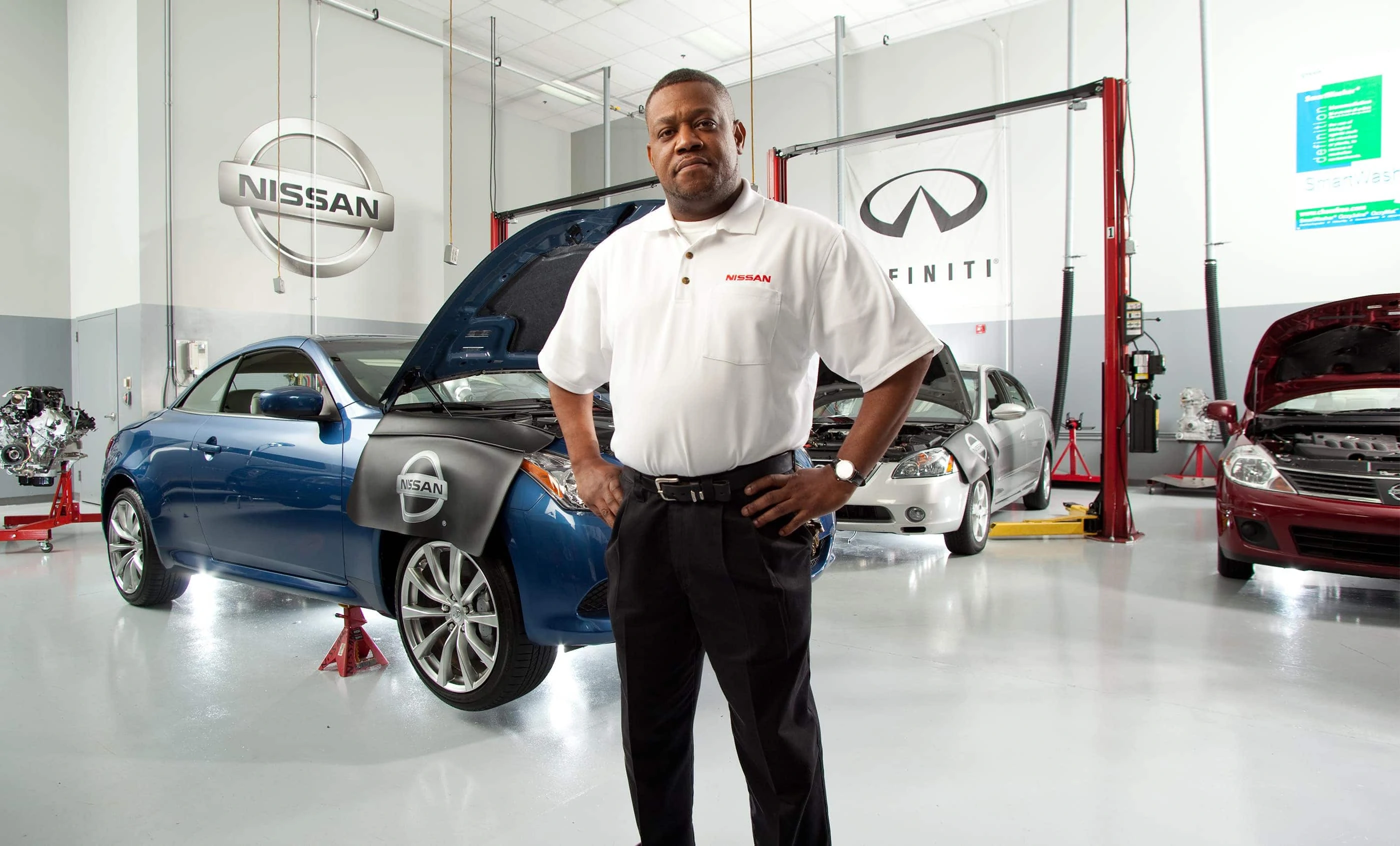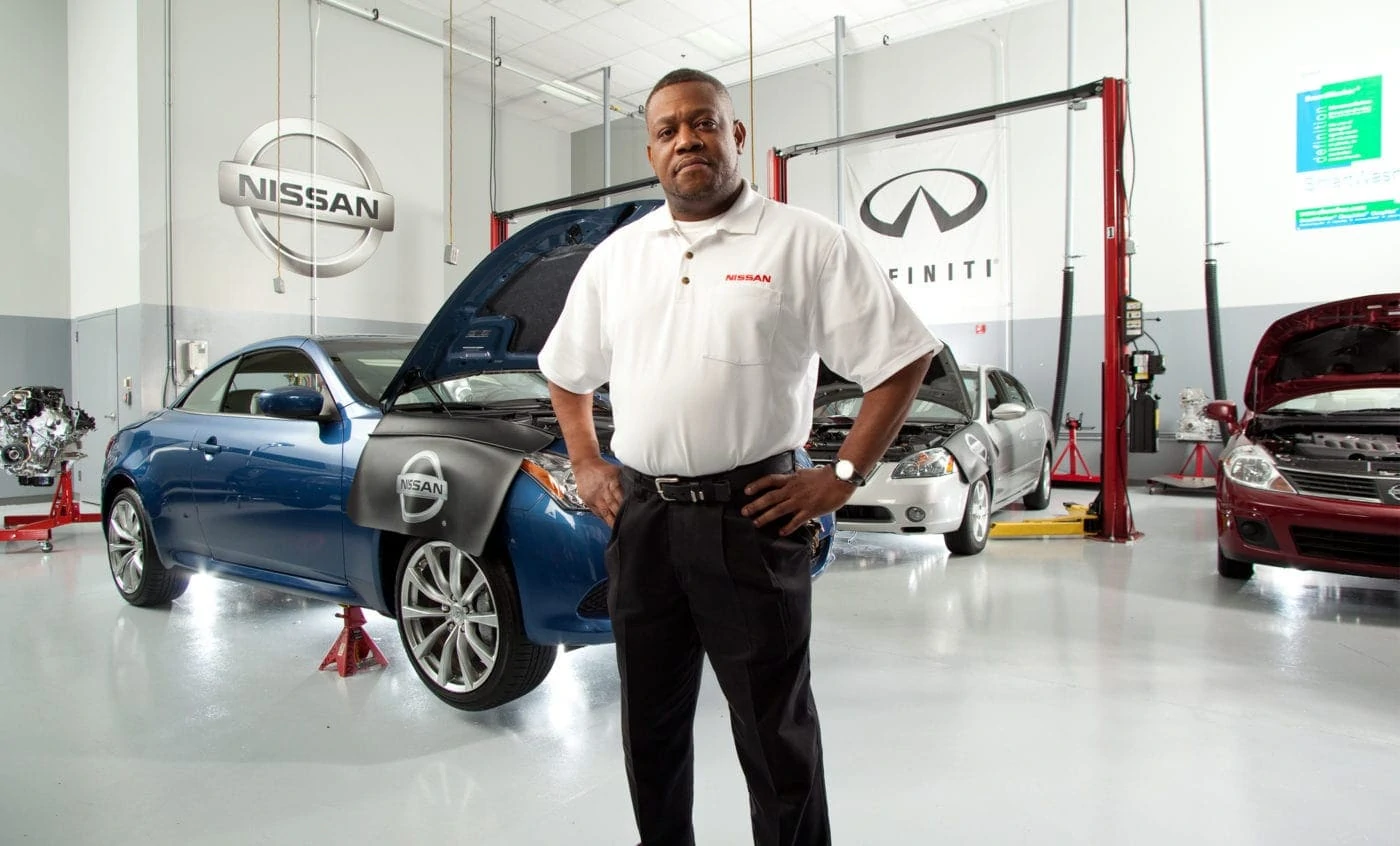 Brand photography featured real students, instructors, and industry relationships within the context of their specialty program and in UTI's own state-of-the-art training facilities. ©Christopher Barr Photography
Following this research phase, OVO went to work to develop an actionable brand platform designed to attract prospective students and position UTI as the undisputed choice of industry for technician training.
Delivering a platform for UTI required clearly articulating the benefits of their exclusive partnerships and unparalleled training. UTI needed to be recognized as the most vital link between future employees and their employers. In order to infuse student prospects with a sense of urgency, those benefits needed to be action-oriented. Visual and verbal language needed to be focused on benefits and outcomes. This is how OVO delivered.
To keep the message simple, OVO focused on emphasizing the following primary benefits with support statistics:
State-of-the-Industry Facilities:

UTI trains using very same "hands-on" technology currently being used by the industry's top manufacturers

Graduation Rates Well Above the National Average:

Two out of three of UTI students graduate; much higher rate than most universities

High Employment Rates:

4 out of 5 UTI students find jobs in their field of study
To clearly present the legacy of UTI, its offering to students and its reach among industry partners, OVO developed a strategy and messaging to communicate the value of Universal Technical Institute.
And to orient the company for students and partners, we developed the following rally: Chosen by Industry. Ready to Work.
These were the basic building blocks for everything that followed. Together OVO and UTI would work together to develop multi-lingual campaigns that found student prospects on their turf—on the road, at events, and around town. Moreover, the identity and messaging system were designed to highlight actual students within the context or culture of their chosen profession; meaning the technician who chooses to work for Mercedes-Benz, for example, is likely very different from the technician who chooses to work for Harley-Davidson.
Internally, the UTI team needed to be equipped with the tools that would inform all visual and verbal branding. Beyond comprehensive brand guidelines and visual identity guidelines, OVO would also develop an extensive social media guide and messaging matrices addressing each step of the student lifecycle.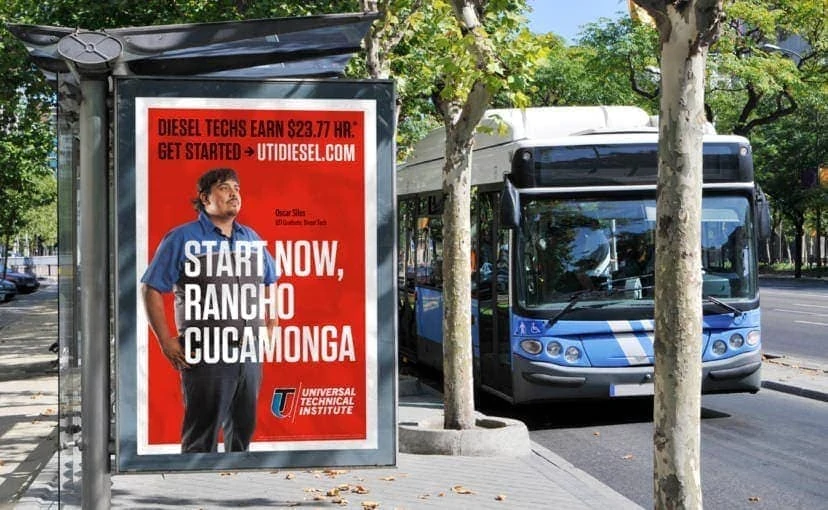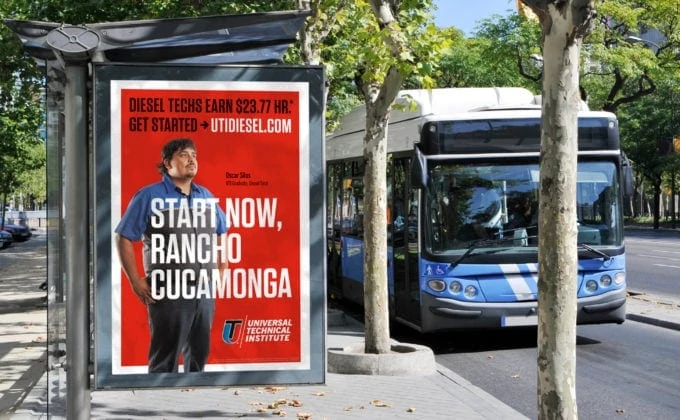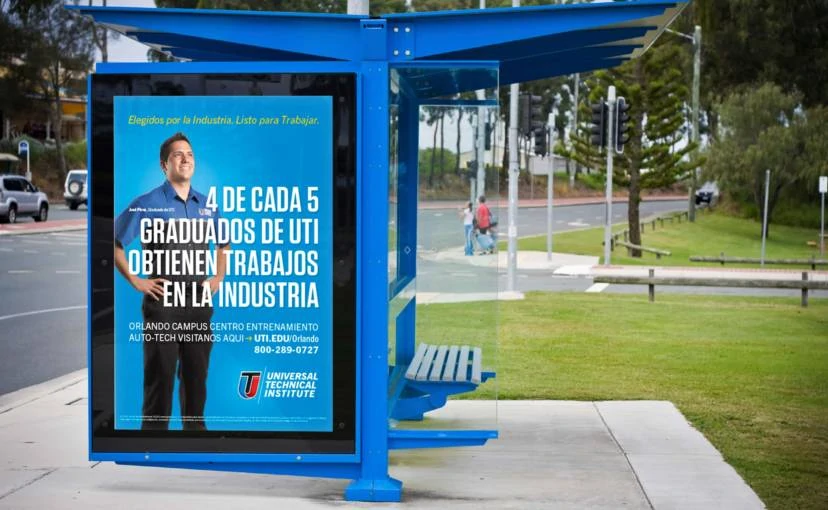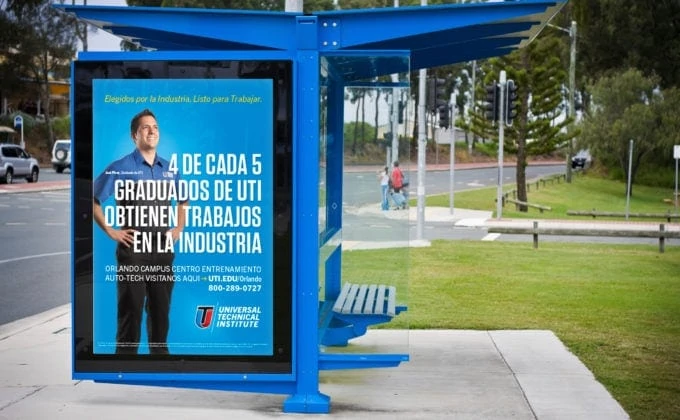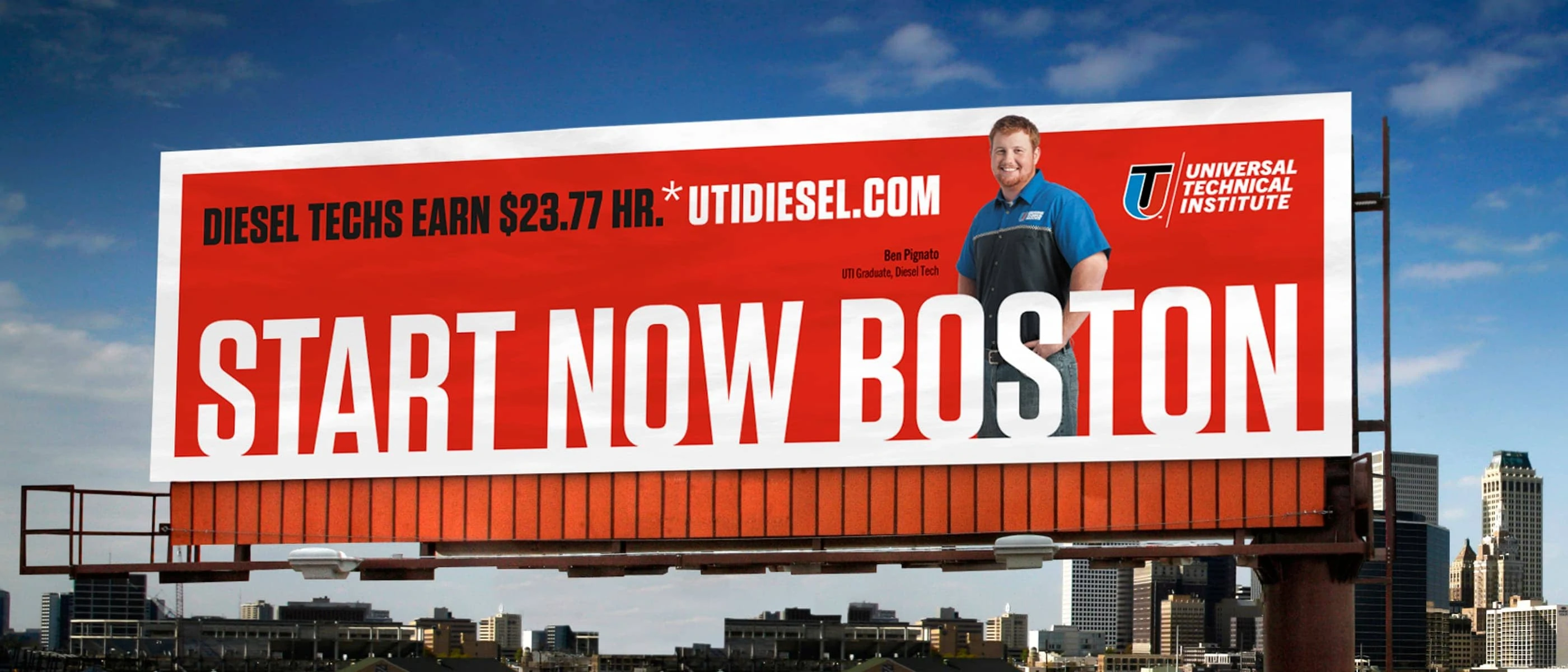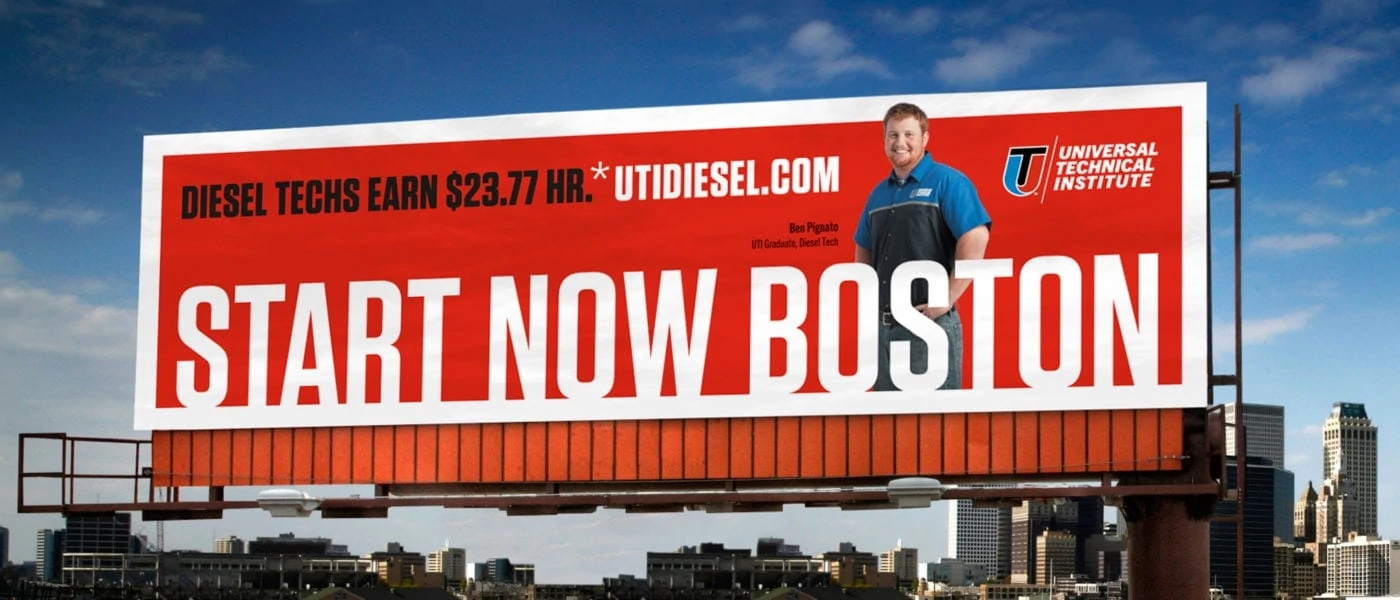 UTI Marketing Campaign
The OVO team learned the nuances of our business and worked with us to bring our brand to life. Our new tagline has been particularly well received at all levels of the company. It captures our competitive advantage and what we deliver to students and industry partners in a creative and innovative way that really works. The brand and the marketing efforts at UTI have truly benefited from our work with OVO.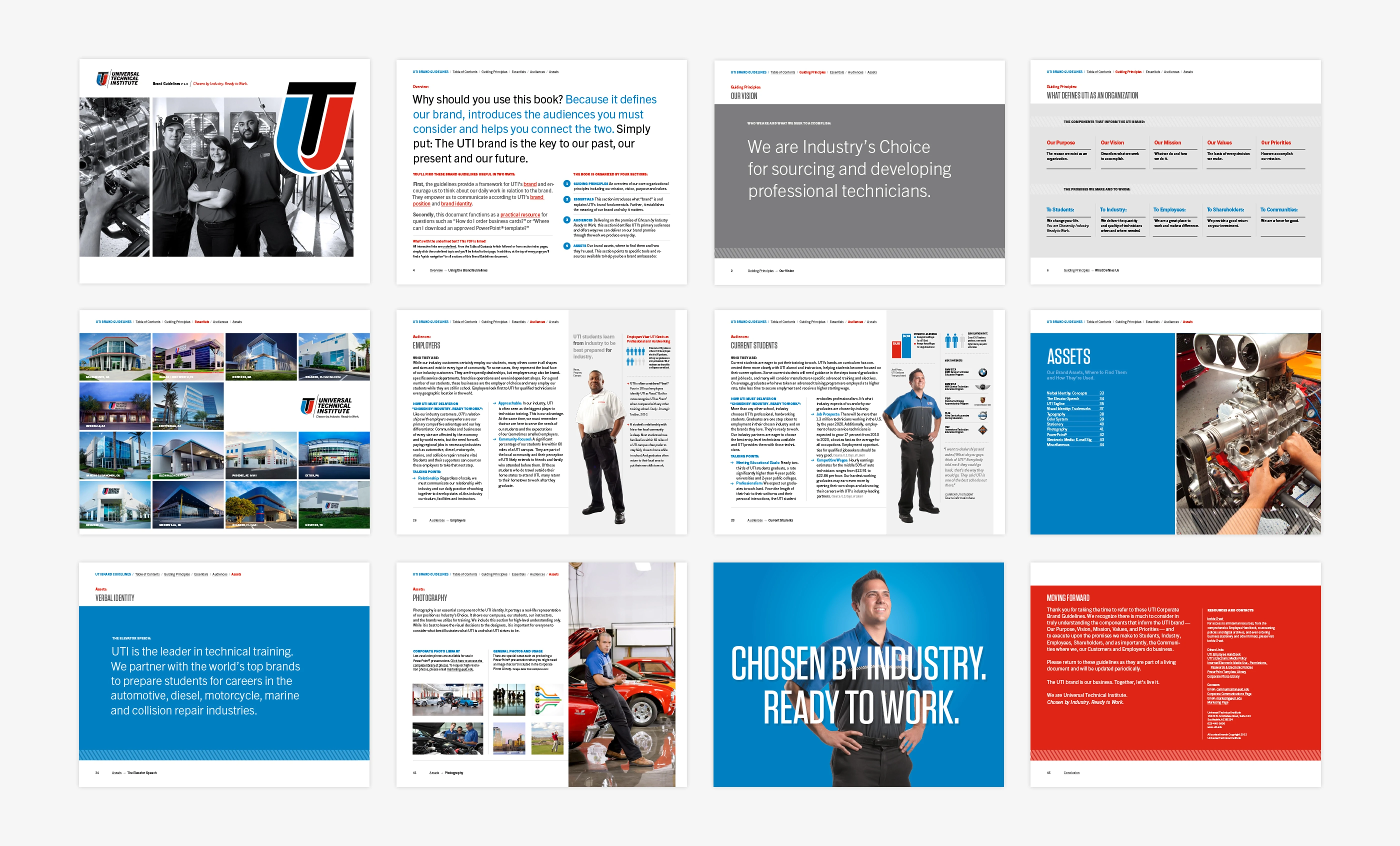 The Corporate Brand Guidelines for UTI represented much more than simple usage. Rather, they were designed to spur brand stewards to understand the deeper context of why UTI was a unique proposition for prospective and current students and industry alike. Throughout the guidelines, statistics, research and profiles illustrated how UTI could deliver on its promise of preparing students who were "Chosen By Industry. Ready To Work."
What that means in measurable outcomes.
Those six simple words—Chosen by Industry. Ready to Work—became a pivot point for action by prompting students and industry partners to act on the very promise UTI was making.
As a rallying cry, UTI reports that the simple phrase has accomplished measures more than its initial primary goal. In fact, it has become the recognized purpose for UTI's business model and the way in which the organization would continue to develop and shape its own structure. It is testament that six simple words as a drumbeat for UTI's position and reason for being proved to be more about outcomes than about describing a "brand". It shored up the loose concept of simply telling others that UTI was "Industry's Choice" and expressed its outcome.
The examples shared above illustrate only a portion of OVO's engagement with UTI, but the early results have been far-reaching. Much like their exclusive partners within the transportation industry, OVO and UTI recognize the investment and the value of working together to solve a business problem that begins with brand. As our relationship continues to strengthen, OVO works to further inform changes in UTI's curriculum and as well as recommending the steps necessary to entice interested students to become active students and then to become knowledgable employees working for the best brands in the industry.
Student enrollment increases and new industry partnerships continue to be formed (in 2013, UTI added General Motors to its stellar roster of manufacturer partners).
Most importantly, the value and difference in UTI as "Industry's Choice" is being recognized and understood as never before.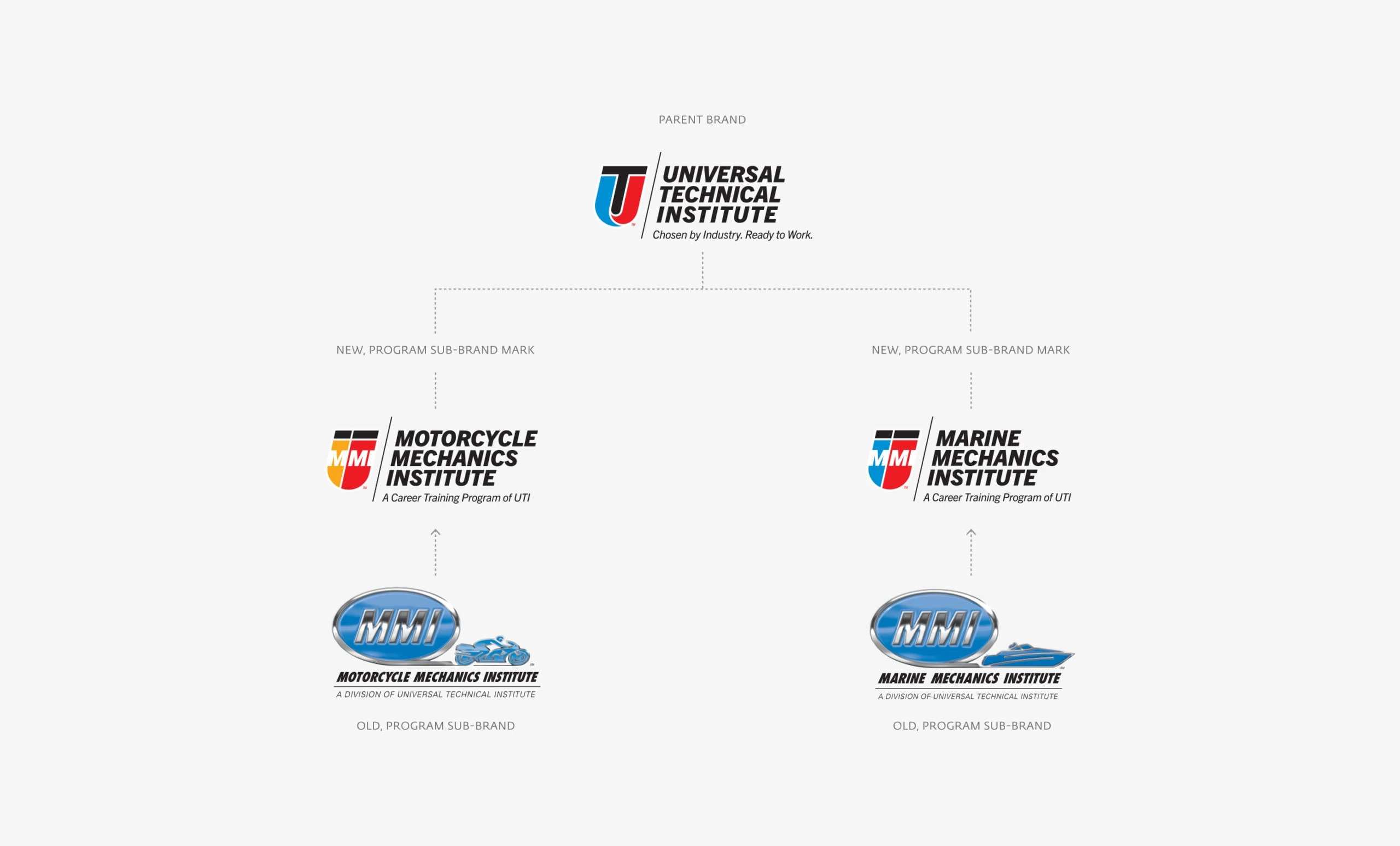 After mergers and acquisitions of other specialty brands, UTI tasked OVO with developing a visual system that connected programs of different names under a culturally-relevant but fully related structure. In this illustration, two specialty programs (MMI for marine and motorcycle) are shown with their original logos and above them, the redesigned logos relating to UTI.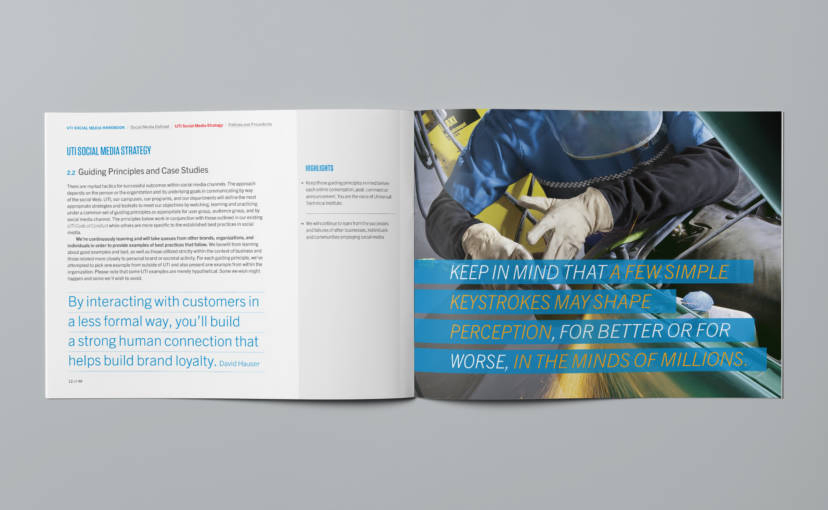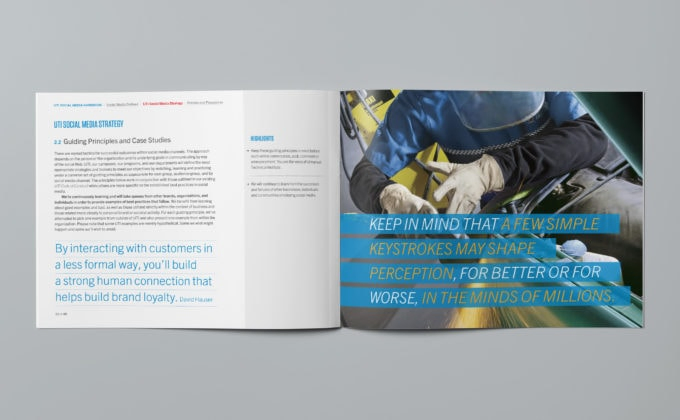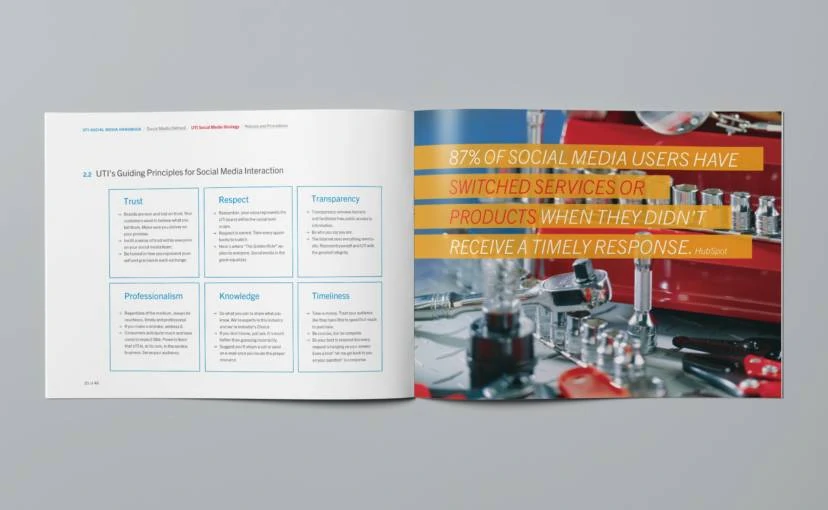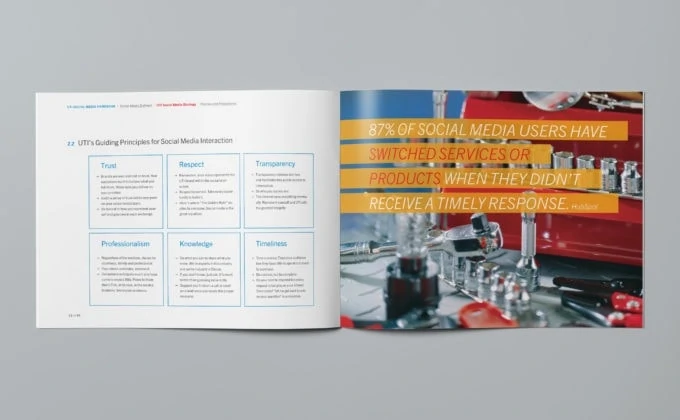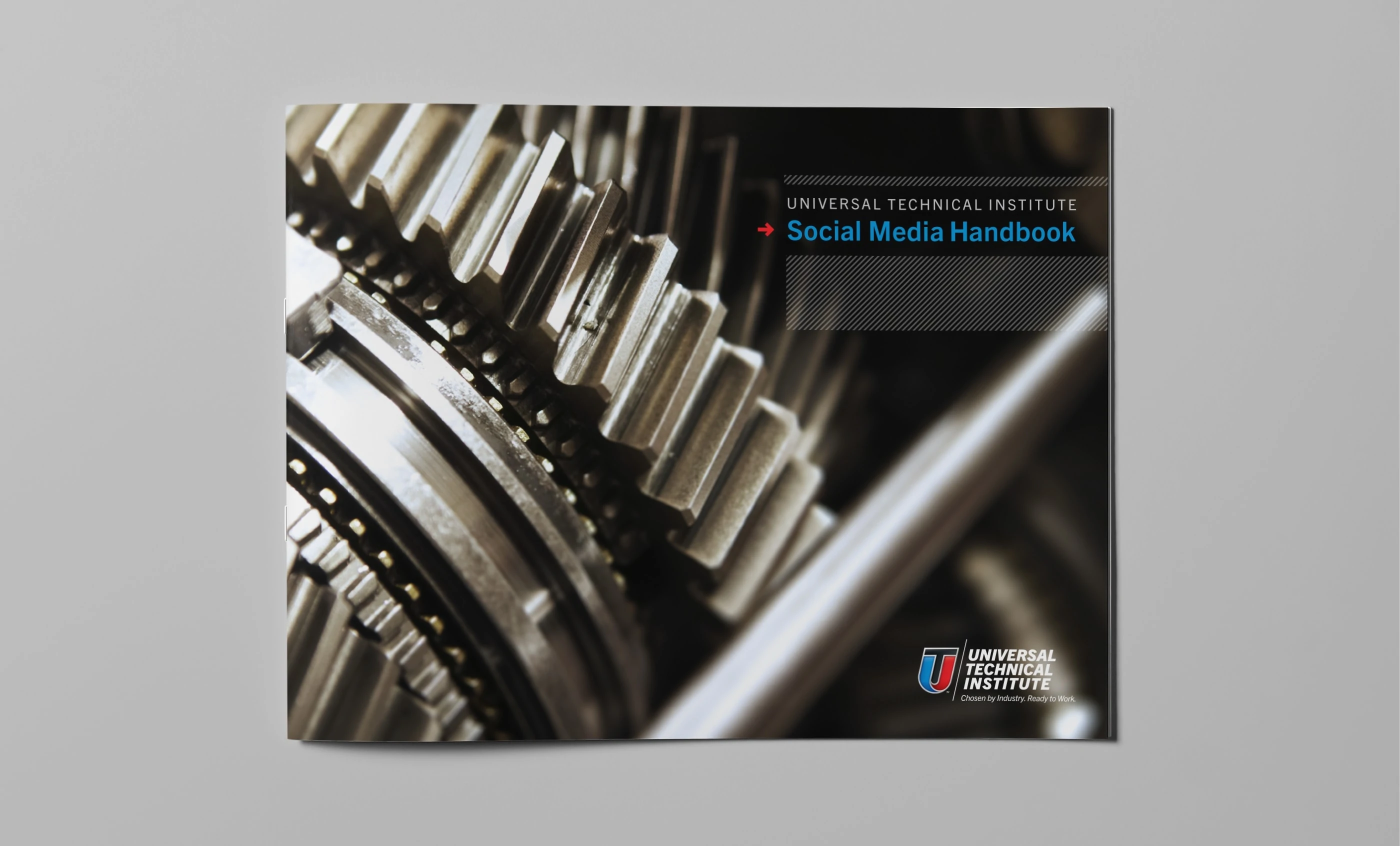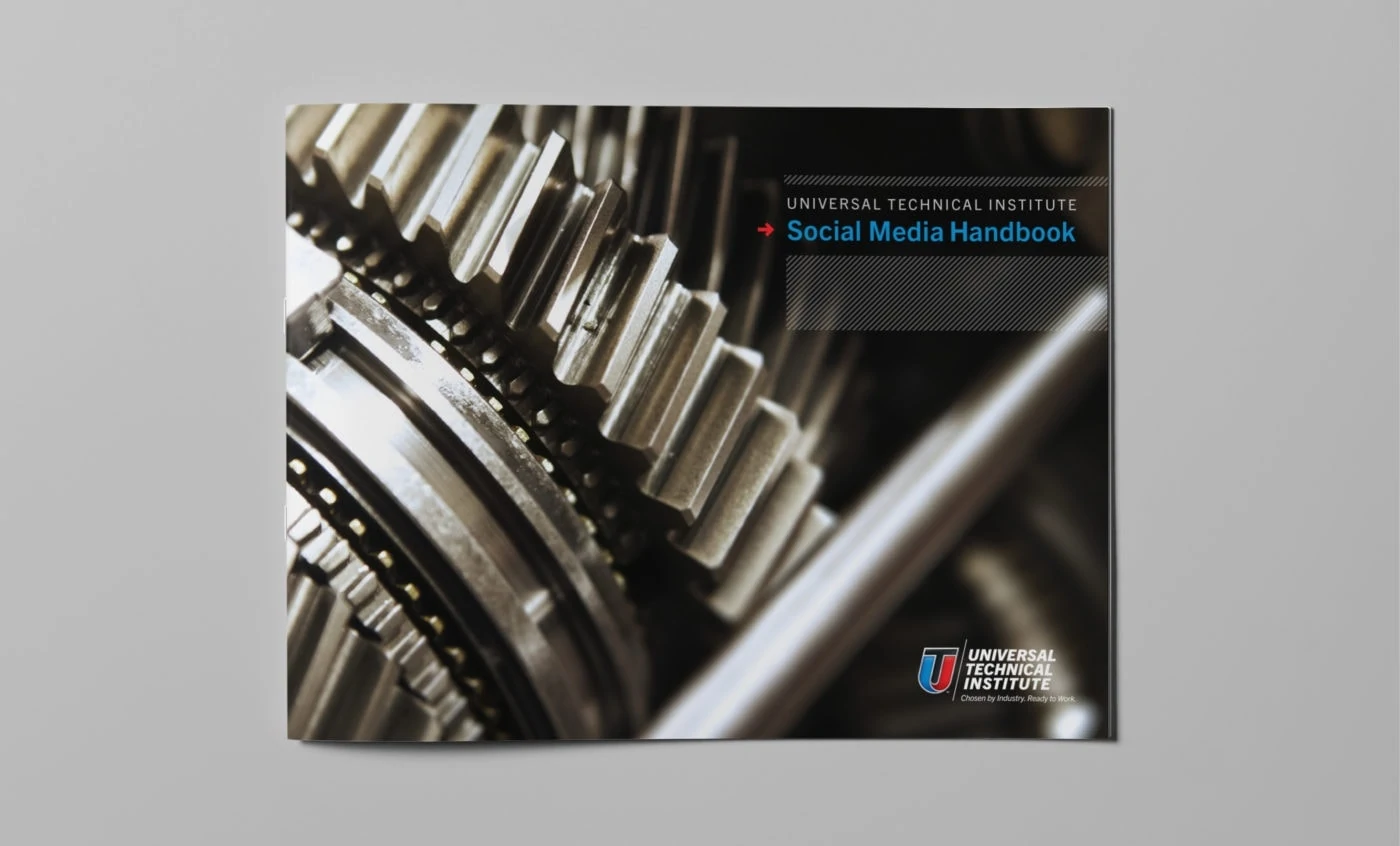 OVO designed UTI's Social Media Handbook as a guide for all online communications. While it provided a great depth of social media case studies and example messaging, the handbook served as a platform for prompting new ideas and keeping all interactions fresh, appropriate, and brand-focused.